Family hail 'justice'
Date published: 28 July 2014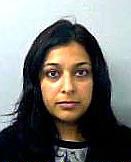 Fiaz Munshi
THE sister of two children killed after an Oldham woman set fire to their house in a revenge attack almost 17 years ago has said that "justice has finally been done".

Fiaz Munshi (38), from Coppice, was jailed for 13 years for the manslaughter of Majid (15) and eight-year-old Anum Khan at Oxford Crown Court on Friday.

The court heard how Munshi, of Manley Road, travelled from Hertfordshire to Oxford on August 26, 1997, to "punish" Amjad Khan, the brother of Majid and Anum, after he broke off their relationship.

Munshi, along with her sister and six men, played a part in petrol being squirted through his family home and set alight in a blaze that killed the young brother and sister.

Their heartbroken sister Shehnaz Akhtar (42) said: "As a family we are happy with the result of the court case but nothing will ever bring them back.

"She will be locked away for 13 years although she has already had so many years of freedom.

"It has taken 17 years to get to this point but we are glad justice has finally been done.

"We carried on fighting for Majid and Anum over the years and we are glad all the people who were involved have now been caught and held responsible for what they did."

Munshi was cleared of murder but found guilty of manslaughter after a trial. Five men were convicted of their murder in 1998, and Munshi's sister Riaz was jailed for 12 years for manslaughter in 1999.

Munshi, who was 21 at the time of the attack, was initially arrested in September, 1997, but was released due to insufficient evidence. On December 9, 1997, Munshi flew to Pakistan but two days later, fresh evidence emerged with arrests being made and six people were charged with murder.

Sentencing her on Friday, Justice Robin Spencer told Munshi: "You have enjoyed years of freedom and family life that you should never have had. The day of reckoning has now arrived.

"You did not expect to be brought to justice. But justice has a long reach and a long memory."
To read the full version of this story see the Chronicle's E-chron digital edition or buy the newspaper.