Last Post veteran Stan dies at 88
Date published: 29 July 2014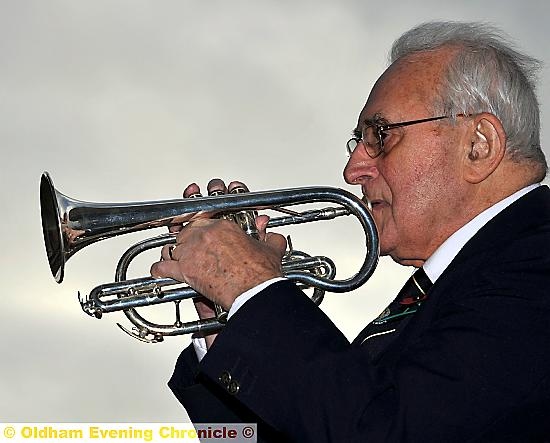 Bugler Stan Whiteman
A CORNET player who sounded The Last Post on Remembrance Sunday in Oldham for 40 years has died.

Stan Whiteman (88), who was involved with local brass bands including Boarshurst, Dobcross, Mossley and the British Legion, died peacefully in his sleep at the Royal Oldham Hospital on Saturday, July 19.

He was in the orchestra or musical director for amateur dramatics groups including Hope Entertainment Society, Greenacers AODS, Saddleworth Musical Society, Trinity Royton and Rochdale Phoenix.

He was also selected to be part of the Virtuosi Brass Band of Great Britain made up of musicians chosen from brass bands across the country.

Stan played The Last Post at numerous remembrance events and in 2012 was presented with a certificate of appreciation and rose bowl by the Mayor at the time, Olwyn Chadderton.

Step son and former councillor, Roger Hindle, said: "For a large part of my life he was a real father figure to me.

"Stan will leave a large hole in the lives of hundreds of people and will be sadly missed.

"I attended a number of Remembrance Sunday services outside the old town hall and was always very proud it was Stan playing the Last Post."

Stan, who lived at Bickerstaffe Close, Shaw, began playing the cornet aged 17 with Oldham Air Training Corps Band.

He joined the Royal British Legion band 40 years ago and played at both Oldham War Memorial and funerals of ex-servicemen and women.

After retiring from his engineering job in 1990, Stan continued to perform and played at Remembrance services in Oldham until 2010.

His commitment to the Royal British Legion was recognised when he was presented with a crystal decanter and glasses by the Oldham branch.

Close friend Trevor Warren, chairman of the Royal British Legion, Oldham branch, said: "He took great pride in sounding the Last Post and played right up until he couldn't do it anymore.

"He had that many good qualities that it would be hard to single one thing about him out.

"He was a real stalwart and everyone at the Legion has a lot of respect for him. You knew when you were with him you were with a real gentleman."

Stan leaves wife Audrey, three children, seven grandchildren and six great grandchildren.