Dumpers landed in a fine mess
Date published: 30 July 2014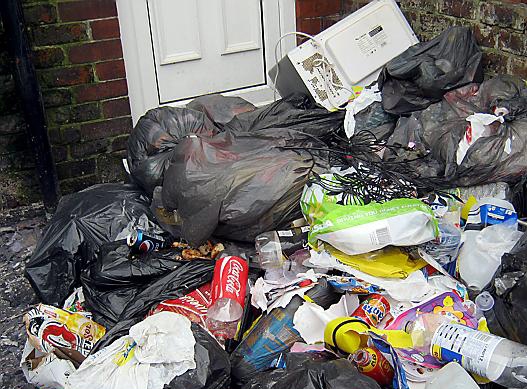 Fly tipping can land you with a hefty fine
FLY-TIPPERS and litter louts who blight the borough by refusing to clear up after themselves have been successfully prosecuted by Oldham Council.

Several cases were heard at Oldham Magistrates Court on July 23 with offenders being given fines, costs and victim surcharges totalling several thousand pounds.

Sherrie Moran, of Wesley Street, Failsworth, was found guilty in her absence of three offences of not complying with a legal notice served on her by the council regarding excessive waste stored in her rear yard.

The 34-year-old was fined a total of £700 plus £1,170 costs after she failed to clean up the mess.

Joseph Ademolu Odusanya, (44,) of Maiden Close, Ashton, pleaded guilty to fly-tipping after collecting bagged waste from a pub in Failsworth on December 31 last year and dumping the waste at the Rose Hey Lane beauty spot in Failsworth.

He was fined £290 with costs of £431 plus a victim surcharge of £29. Another male involved in the fly-tipping failed to attend court and a warrant was issued for his arrest.

Jodie Louise Bertenshaw, of Urmson Street, Hathershaw, was found guilty in her absence for failing to comply with a notice served on her after she did not put her household waste in her bin.

On two occasions she placed bags of rubbish in an alley and was issued with Fixed Penalty Notices (FPN), which she failed to pay.

She was fined £300 plus £641 costs and a £30 victim surcharge.

Councillor Barbara Brownridge, cabinet member for neighbourhoods and co-operatives, said: "The council spends a huge amount of money each year cleaning up after people — funds which would be spent on other services for residents.

"We will take action against those who think they can just dump waste and leave others to clear up the mess."
To read the full version of this story see the Chronicle's E-chron digital edition or buy the newspaper.