Working together for a brighter future
Date published: 01 August 2014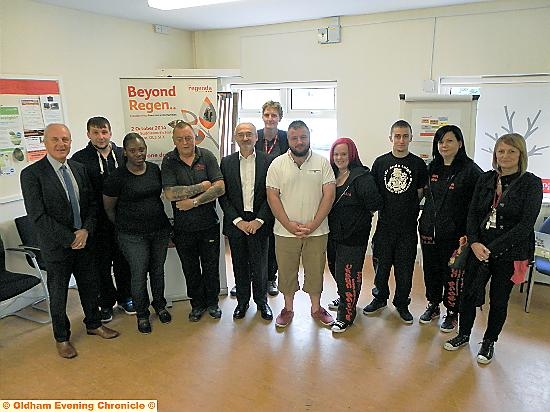 Regeneration of Limehurst Village by Regenda. Christopher Standish (back) and Graham Marsh (front centre).
REGENERATION work in Limehurst is pushing ahead as part of housing firm Regenda's wider plan to transform lives in the area.

A meeting was held at Limehurst Tenants' Hall yesterday bringing local businesses together as part of a £5million, 10-year project aiming to regenerate Limehurst by offering support, access to training, skills and personal development.

Chris Standish, who is leading the drive to improve the community as part of the Beyond Regenda project, said: "It is about bringing people together and creating a sense of an emerging businesses and community spirit.

"We want to make this a great place to be and create a feel-good factor. I genuinely care about the area and will strive to achieve that.

"We want to bridge the gap. This is a brilliant place with brilliant people."

Among guests at the meeting were the owners of six local business start-ups which have sprung up in Limehurst since the project began.

Father-of-two Graham Marsh (55) had to leave work five years ago to care for his wife who suffered a heart attack.

He was determined to get back into work but his wife's condition meant it was difficult for him to be an employee because he feared he would lose his job if he needed time off.

Mr Marsh struggled to find help because funding for business start-ups was restricted to younger people, so he went to Regenda for help and advice and they gave him the money to start his own building firm.

He said: "I had always wanted my own business but I struggled to get the capital to start up. Things are ticking over nicely now and word is spreading through the area which is helping me pick up more work."

So far, the programme has created 20 full-time jobs, 44 part-time roles, 42 volunteering posts, 116 training places and six start-up businesses.

Beyond Regenda is a series of discussions cumulating in a conference in Saddleworth on October 2.