A muddy disgrace
Date published: 13 August 2014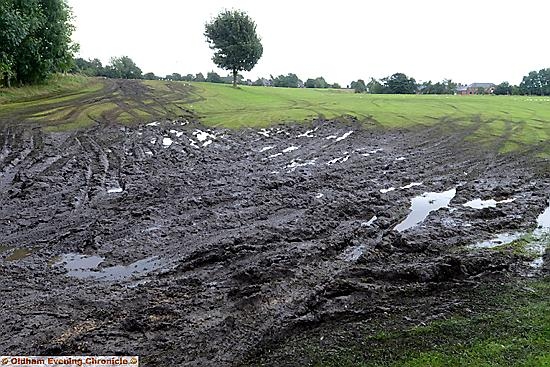 Mess left by travellers after leaving their site on Oldham Edge.
A field scarred by wheel tracks and scrap building materials and rubbish piled high . . . this is the legacy of the travellers who occupied Oldham Edge over the weekend, a legacy for which Oldhamers will have to dig deep into their pockets to pay for.

The group, who arrived last Thursday, were finally removed on Monday night leaving Oldham Council with a mammoth mission to restore the popular site.

Deputy council leader Jean Stretton said: "The trail of destruction at Oldham Edge is totally unacceptable. When travellers arrive in the borough we always try to balance the rights of all those involved but this has to be a two-way process.

"Council staff were on site yesterday starting the first phase of a big clean up operation. Dozens of bags of waste were strewn across the site and tons of Tarmac and concrete had also been fly-tipped.

"This work not only diverts environmental services staff away from their day jobs, it will also cost tens of thousands of pounds.

"The cost isn't just financial — the impact on the community is terrible. Oldham Edge is an important site which is a focal point for local people. They have been treated disrespectfully and we share their sense of outrage.

"Much of the damage is mindless vandalism and we take a zero tolerance stance on this kind of behaviour. We'd urge anyone with evidence and information about damage being caused to contact the police on 101.

"Finally, we thank local residents for their patience as we work to restore the site as quickly as possible."

Oldham's chief superintendent Caroline Ball added: "We always work with partners to support traveller families as they arrive in the borough. In this case it appears that criminal offences have been committed and I would urge people to contact 101 or Crimestoppers on 0800 555 111 if they have evidence that will support a prosecution."
To read the full story go the E-Chron digital edition or buy the Chronicle.