Kenzie is a boy on a mission
Date published: 14 August 2014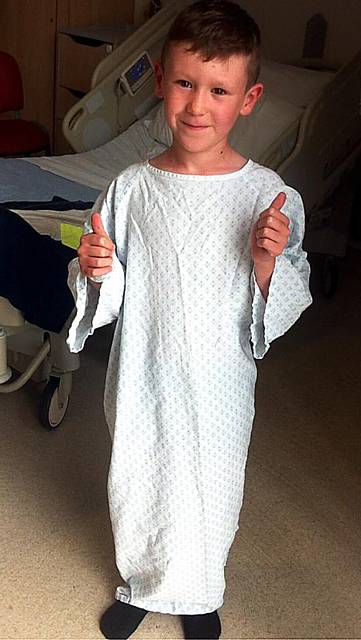 Kenzie Higgins
WHEN Kenzie Higgins was diagnosed with an extremely rare bone disorder, he was forced to stop playing all the sports he loves.

But far from moping around and letting his illness get him down, the kindhearted eight-year-old decided to take action and he's now on a mission to raise money and awareness.

Kenzie, of Propps Hall Drive, Failsworth, was diagnosed with Perthes Disease in March and is currently recovering from major surgery which saw doctors having to break his thigh bone and insert metal plates into his hip.

The Propps Hall School pupil has been advised to swim to aid his recovery process so he is organising a sponsored swim at Failsworth Pool to raise money for the Perthes Association.

Mum Terri first noticed something was wrong when Kenzie started walking with a limp and complaining of pain in his hips.

Doctors referred him to hospital and he was diagnosed following a series of blood tests and x-rays.

Terri said: "I had never heard of Perthes Disease before and I've since read that it can take some people years to get an accurate diagnosis because it is so rare.

"I feel lucky that we found out what it was quickly so we could start trying to sort it out."

Perthes Disease — which only affects one in every 5,000 children — occurs when the blood flow to the hip bone is disrupted, causing the bone to die.

It can heal itself over time but it can take up to 10 years and it can grow back deformed.

Long term effects of the condition — which is more common in boys — include osteoarthritis and an increased chance for the need for a hip replacement.

Kenzie's swimathon will take place on October 18. Visit www.justgiving.com/terri-higgins to donate.
To read the full story go the E-Chron digital edition or buy the Chronicle.