Narrow escape from flying car
Date published: 15 August 2014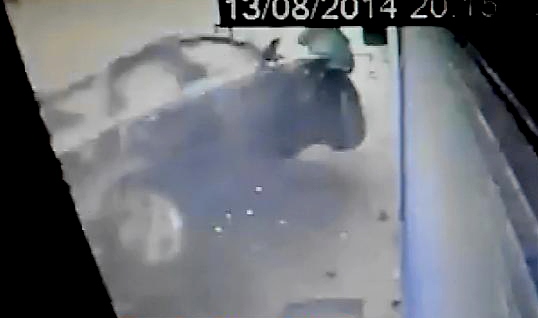 Lucky Escape
A PEDESTRIAN narrowly escaped a serious accident after jumping out of the path of an out of control car which mounted the pavement and crashed into a lamppost just inches away.

Footage recorded on CCTV shows the person walking along Aston Road in Hathershaw at 8.13pm last Wednesday (13) evening.

They then stop suddenly as they spot the oncoming car speeding towards them, just out of shot of the camera, and run backwards.

Less than a second later as a blue car appears on screen, hits something and it is launched into the air.

It carries on moving forward but only comes to a stop, just inches away from pedestrians, after hitting a lamppost.

A police spokesperson confirmed that they had responded to a two vehicle crash involving a blue Audi and a black Mercedes on Aston Road, close to the junction with Honeywell Lane, shortly after 8.15pm on Wednesday (13).

The road was closed for some time after the accident and three people in the cars reported minor injuries.