Pioneer colleges (almost) up and running
Date published: 04 September 2014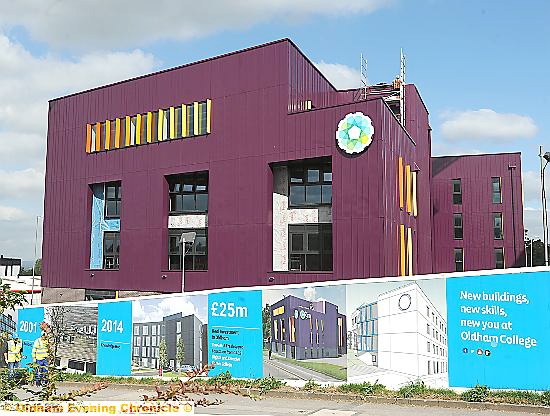 Oldham College's new GM building
TWO pioneering colleges offering an alternative to secondary school and sixth form have opened in Oldham this week.

But around 100 pupils starting at one of them have had to be taught elsewhere due to delays in finishing the £9 million building.

The country's first Digital and Creative Career College, at Oldham College, offers a range of vocational courses and is one of the three "career colleges" that opened in England this week.

A University Technical College has also opened at the Rochdale Road campus. Called "The GM", it combines academic subjects with vocational training in sustainable engineering.

The new GM building wasn't finished for the start of term on Tuesday and is now expected to be ready by the end of September. Pupils are being taught at Oldham College until then.

A spokesman said: "The GM was always planned to an ambitious timescale. A few days' delay was inevitable. Our temporary accommodation is on the same site."

Both The GM and the Digital and Creative Career College will offer alternatives to secondary school for children aged 14 and over. Courses have been planned with employers, to ensure they meet the needs of the labour market.

The GM is initially starting with year 10 and 12 pupils — traditionally when pupils begin to study for their GCSE and A-levels — but will eventually cater for up to 600 pupils across four years.

The Digital and Creative Career College brings together existing Oldham College courses in subjects such as media, music technology, software development, art and design, games design and fashion and textiles under one umbrella.

It has around 600 students aged from 16 this year, but will take 14-year-olds from September, 2015, who will do a combination of academic and vocational courses.

The students will be taught in the college's existing facilities before moving to a new £9 million building next year.