Minister hails college as a beacon
Date published: 09 July 2008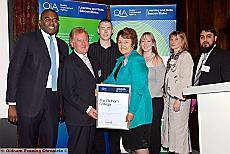 PICTURED (from the left) are David Lammy, Minister for Skills; Cyril Brandford, chairman of the governors; Matthew Smith, a construction apprentice; Kath Thomas, college principal; Lyndsey Seville, student governor; Jacqui Rogers, director of technologies
THE Oldham College has cemented its outstanding reputation by achieving Beacon status.

It is awarded to the best further-education colleges in the country and celebrates outstanding teaching and learning along with excellent leadership and management.

The Oldham College was rated as outstanding in a recent Ofsted report, sweeping the board with top grades in every category.

Principal Kath Thomas said: "This is a fantastic accolade for our staff, students and the wider Oldham community.

"I am very proud of our achievements, which have been recognised at the highest possible level.

"Oldham now boasts two colleges with beacon status, recognising the excellence of further education in the borough."

Minister for Skills David Lammy presented the college with its award at a Learning Skills Council ceremony in London on Monday.

Oldham Council chief executive Andrew Kilburn said: "We are privileged to have such an outstanding centre of learning on our doorstep."

The college has also been congratulated by former student Paul Walsh, chief executive of Diageo, one of the world's largest drinks companies.