It's traffic chaos!
Date published: 02 December 2008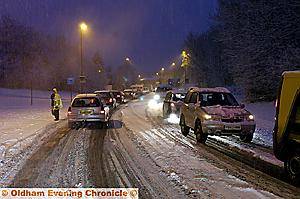 Photo: Anthony Miller
WHITE HELL: THIS was the scene in Lees Road, Oldham, this morning as heavy overnight snow and sub-zero temperatures brought chaos to the borough. Commuters faced an icy crawl to work and schools were forced to close for the day. Delph was cut off and other drivers were forced to abandon their vehicles.
HUNDREDS of rush hour drivers were stranded this morning as Oldham faced white out misery.

Traffic slithered to a halt on routes across the borough as frustrated commuters were forced to abandon their cars in treacherous conditions.

Temperatures fell to -2C overnight followed by the heaviest early snow falls since the November blizzard of 1996.

People woke up to picturesque scenes after four inches of snow blanketed main roads and country fields.

This turned to chaos as schools were forced to close and queues of stationary cars caused traffic misery.

Some drivers claimed that roads had not been gritted and Delph was completely cut off while Chamber Road was blocked along with part of the A627M between Oldham and Rochdale.

The main A62 road between Austerlands and Oldham was littered with abandoned cars when traffic came to a halt and took one motorist an hour to travel from Delph to Scouthead.

Several accidents were reported on the region's motorways and matrix signs on the M62 were set to 20mph in hazardous conditions.

The eastbound sliproad of the M62 was closed at junction 19 (Middleton/Heywood) when two HGVs were involved in a smash. A vehicle careered up the embankment of the M62 at junction 20 (Rochdale).

Other routes which were badly affected included the A663 Milnrow Road, Shaw. One driver set out from Mossley at 6.40am and abandoned his car at 7.35am on Oldham Road, Springhead, to walk into Oldham.

He said: "It took me ages to get out of Mossley and when I made it to the main road nothing was moving.

"There was a snake of traffic going all the way along Oldham Road through Grotton and up the hill.I just just gave up and abandoned my car because it was quicker to walk."

Oldham Chronicle weatherman Damien Rogers said: "It is probably the heaviest snow since February 2007.

"There may be more snow on Thursday and it is probably going to stay cold until the weekend."

* You can email your snow stories to to news@oldham-chronicle.co.uk Villagers stranded in snow

Heavy snow, backed by freezing temperatures, brought chaos to Saddleworth villages.

Thousands of residents woke to snow more than 6in deep, leaving them stranded in driveways.

Angry travellers complained that Oldham Council had been caught completely unaware by the horrendous weather.

Denise Wildes, who runs a bakery on High Street, Delph, said: "It's complete chaos. I fought my way through snow to collect bread — but there wasn't a gritter or snowplough in site. Cars have been left at the roadside.

"I went to the salt bin near my shop and it was almost empty. It's terrible. My business has ground to a halt."

At Greenfield, postmaster Mandy Gorey staid postmen had been compelled to leave their vans to walk on their rounds.

"Some of the houses in the hamlets are completely cut off. There is no point in trying to get vehicles through at the moment."

On the A635 road above Greenfield a resident said: "We have given up all hope of getting children to school."

The main A62 Oldham to Huddersfield Road was blocked at Scouthead by a jack-knifed lorry.

Another jack-knifed lorry caused chaos near Greenfield railway station.

Schools close their doors
SCHOOLS were having to decide whether to stay open as staff struggled to get to work.
In Shaw, Royton and Crompton Secondary School, Crompton House, St Mary's and Buckstones Primary School took the decision to close but several more, including East Crompton St Joseph's, Beal Vale and St Joseph's were unsure as to whether they would open or be forced to close.

Saddleworth Prep, South Failsworth Primary, Counthill and North Chadderton all decided to stay closed while Hathershaw was due to open at 11am.