Oldham gritters praised, neighbours slammed
Date published: 02 February 2009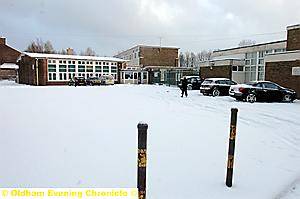 NO school today . . . the weather forced the closure of Alt Primary School — and others — todayAbbeyhills Road in Oldham was a whiteout this morning as motorists struggled to work
Snow shuts roads and schools

Pictures by ANTHONY MILLER and DARREN ROBINSON
A FRUSTRATED Oldham councillor today lashed neighbouring boroughs who failed to grit key highways, causing major disruption to rush-hour traffic after freezing overnight conditions.

Mark Alcock, cabinet member for infrastructure and the environment, launched his salvo after police closed the A635 Greenfield-Holmfirth road, the A640 Denshaw-Rochdale and A62 Oldham-Huddersfield roads.

Hulme Grammar schools, Saddleworth, Failsworth, Alexandra and Alt schools were closed, as 5cms of snow fell.

Councillor Alcock revealed the council has already spent £540,000 on the massive gritting and snow plough operation this winter to ensure travellers a safe passage.

Overnight snow driven by biting winds made driving treacherous, but Councillor Alcock said: "My teams have been magnificent. They have done a terrific job and I am really proud of them.

"But I am really upset that, for whatever reasons, there have been problems on roads at the Rochdale and Kirklees borders.

"We are going out doing our job — and more — to ensure Oldhamers can get about their business but the police have been forced to closed some key roads because they have not been gritted on the other side of our borders.

"It's very frustrating — particularly as the forecast is for worse snow to come in the next 24 hours."

Tony Noblet, Oldham's highways chief, said: "Gritting teams were out for 6pm yesterday, working through the night to keep main routes open. We also carried out a major sweep on secondary roads.

"Everything is running well and our teams have done a Trojan job. But they have been hampered by snow falling on roads they have gritted, then freezing."

Insp Danny Milovanovic, who leads the Saddleworth and Lees neighbourhood policing team, confirmed the closure of the Holmfirth and Rochdale roads, adding: "Conditions on the other side of our borders are certainly hazardous. "

Oldham mountain rescue team, working in support of ambulance crews, were on standby to assist police.

Team members helped an ambulance stranded with a patient in a snow-blocked Oldham road.

Postal deliveries were disrupted by the snowy conditions and a postwoman on her way to work at Dobcross was injured in a crash.

Dobcross post master Suhki Singh said postal deliveries by van to local villages had been cancelled. "However, we will ensure post gets through if our teams can reach homes and businesses on foot"

Early morning travellers using the A62 Oldham-Huddersfield road reported hazardous conditions before its closure.

The Highways Agency advised motorists not to travel unless their journeys were really necessary.

"Some problems have been caused by jack-knifed lorries which in return prevent gritters from doing their job," said a spokesman.

"Things are likely to get worse too, so we'd ask every traveller to think before setting off on a journey."

Saddleworth School closed its doors this morning, as teachers struggled to get in over treacherous moorland roads.

Language teacher Meg Todd said: "The problem is that we have teachers coming from places like Marsden and Meltham, and some of them can't even get off their drives. "

Castleton Road and Fir Lane, between Thornham St James' School, past the Puckersley pub down to the centre of Royton, were also closed this morning.

Tomorrow, up to 20cms of snow is forecast for hills, with 10 cms in Oldham.