Experience the key for Lloyd
Date published: 22 July 2014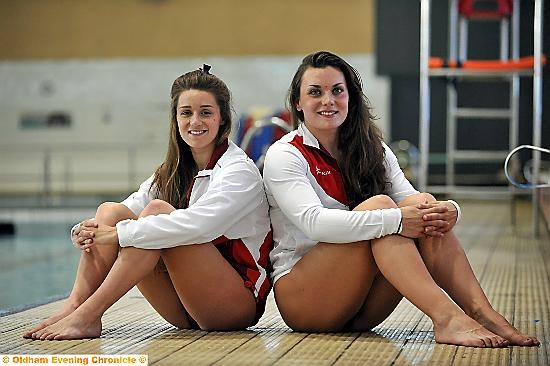 Jessica Fullalove and Jessica Lloyd (right).
COMMONWEALTH GAMES COUNTDOWN

SHE'S already enjoyed the hype and expectation that goes with competing at the Olympic Games, so maybe that's why Jessica Lloyd feels quite chilled as she gears up for the exciting Glasgow Commonwealth Games, which begin in earnest on Thursday.

Diggle-based City of Manchester Aquatics star Lloyd (19) featured at the unforgettable Olympic Games in London two years ago.

She cherishes those memories of course, and despite admitting that she struggled for motivation at times once the London buzz subsided, Lloyd feels that big Games experience will help her over the next week or so.

Lloyd said: "We arrived in Glasgow on Sunday night and had our first training session (at the Tollcross international swimming centre) yesterday, and it felt really good.

"They've definitely made the whole centre look lots more professional since we were there for the trials earlier in the year.

"There's more seating in the arena, there's banners up and the whole atmosphere is totally exciting.

"I do feel a lot more at ease this time compared to the Olympics.

"I guess London was a big learning process and that should help me once Thursday comes around.

"I did struggle a bit after the Olympics, what with the way they bigged it up like they did and all the excitement that surrounded it.

"I just didn't want it to pass me by, so once it had finished I was a bit fed up. I just wanted to keep going back to it.

"It was tough for a while, but I'm well over it now and don't get me wrong, the Commonwealth Games is still a big deal. There's still a lot of pressure on us.

"Maybe it would have been better if I'd been to a Commonwealth Games before the Olympics, who knows?"

Lloyd gets her Glasgow campaign under way on Thursday afternoon, the day after the opening ceremony at Celtic Park, when she competes in the 4 x 100m freestyle relay heats for Team England.
To read the full version of this story see the Chronicle's E-chron digital edition or buy the newspaper.