Sweet and sour for Lloyd
Date published: 25 July 2014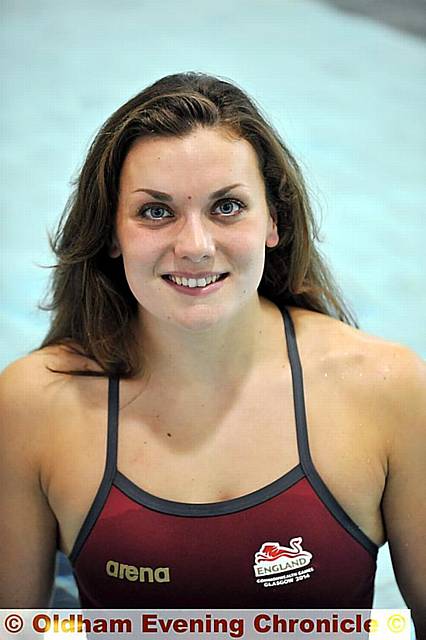 Jessica Lloyd
COMMONWEALTH GAMES

OLDHAM has its first Commonwealth Games medal thanks to Diggle swimming star Jessica Lloyd.

Team England ace Lloyd (19) won a silver medal in the 4x100m freestyle relay event at the Tollcross International Swimming Centre in Glasgow last night, though it was a bitter-sweet experience as she didn't swim in the final, won by favourites Australia.

Lloyd featured in the heat earlier in the day, swimming the second leg of the four as Team England booked their final berth.

However, Siobhan O'Connor, Fran Halsall, Amy Smith and Becki Turner got the nod last night, though Lloyd still qualified for her cherished medal.

She said: "It's fantastic to have won a silver medal here, but I'm a bit gutted I didn't swim in the final to be honest.

"It was always going to be between me and Becki who got picked for the fourth place in the team. I'm ranked fourth and she's ranked fifth.

"But she is a great swimmer and this kind of thing has happened to her before.

"I was a bit upset, but I'll get my medal later today and I'm really proud of that.

"It was always going to be tough to beat the Aussies, but we gave it our best shot."

Lloyd was back in the pool in individual action this morning, in the heats of the 50m freestyle event.

She then goes in the 4x200m freestyle relay tomorrow.

Fellow Oldham swimmer Jess Fullalove started her Games campaign this morning in the 100m backstroke heats.

Meanwhile, Nicola White enjoyed a dream start to her Commonwealth Games campaign as she scored in England's 2-0 hockey victory against Wales at the Glasgow National Hockey Centre.

In front of the watching Queen and Prince Phillip, White scored in the second half — a sliding finish from a penalty corner — after Alex Danson got England on their way in the 29th minute.

Oldham star White said: "To win our first game of the Commonwealths is just great.

"The first half was a bit messy, but I think there were probably a few nerves kicking around so after bringing it together at half time we got back into our game tempo and we played much better in the second half.

"Tournament hockey isn't always the prettiest, some games you have to just have to dig out the result, so three points on the board against a tricky, feisty Wales squad was probably one of those games.

"It's always great to get on the score sheet and especially scoring corners is so crucial so that was a massive bonus."

Head coach Danny Kerry's England are next in action on Sunday when they face a pool fixture against Malaysia.