A collection of photographs.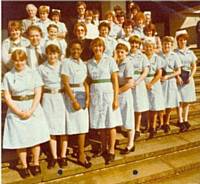 View gallery (7 images)
The picture gallery on this site hosts quite a number of group & individual photographs taken over the years. To view them please visit the gallery on the left of the screen. To enlarge a picture click on it. To move on, scroll the page to the top & click on the arrow.
The picture on the right is one example.

This photograph was taken in the early eighties on the steps of the Civic Centre, Rochdale Road, Oldham. The nurses are only a few of a larger group who had been presented with their awards. They represented Registered Mental and General Nurses and Registered Enrolled Nurses. Other photographs of the whole of the groups were taken inside the hall.

A few years later a large percentage of the Enrolled Nurses undertook the conversion course leading to the award of First Level Nurse. (EN to RGN). The Tutors in the photograph are Mr Trevor Jepson on the second row, Mr Gerald Foy, (Director). Geoff Smith, Mrs Beryl Howard, Mrs Lesley Pemberton and Mr Philip Mason at the back. Mr Mason came into the school for a short while then returned to the wards.
NB. If anyone featured on the site would prefer to have their photograph removed or alternatively, have one included please let me know.
This internet site could also assist ex colleagues or relatives researching their ancestry. For instance, the son of a Mental Health Nurse Fred Lyden would be obliged if anyone could provide him with information. Please see the message board for details.