SECRETARIES - ADMINISTRATION AND SUPPORT STAFF.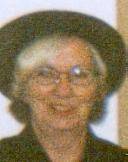 View gallery (2 images)
Without any doubt, over the years the work of the secretaries, admin and support staff within the school have made a major contribution to the success of the Oldham School of Nursing. Unfortunately, not all their names will be listed here mainly because time and memories are short. However, those remembered are acknowledged. Any subsequent information will be added to the list as it comes in. In addition to the permanent staff, numerous nursing cadets came into the department to assist staff with the running of the school.

LIBRARIAN - Mrs Barbara Brierley.

( Reported to have known the names of every student nurse who used the library).

SECRETARIES AND ADMINISTRATION STAFF.

Mrs B Collier. Mrs V Duffy. Mrs A Ingham. Mrs P Walmsley. Mrs D Holt. Sybil Smethurst. Wendy Blore.

ALLOCATIONS - Miss Mary Heverin.

AUDIO AIDS - Mr Robert Porter.