Tutors before the amlagamations.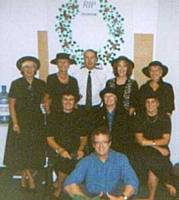 View gallery (18 images)
TUTORS EMPLOYED IN THE SCHOOL OF NURSING BEFORE THE SERIES OF AMALGAMATIONS TOOK PLACE

Mr S Tyrer. Mrs L Bailey. Mrs V Kenyon. Mrs K Wild. Mrs N.Wilson. Mr R Ofori

Mrs A Biczo. Mr G Foy. (Director). Mrs B Howard. Mr J Howarth. Mr T Jepson. Mr A Kilroy.

Mr M.Levins. Mr M.Picthall. Mrs J.Spence. Mr.G.Smith. M/s J Wharmby. Mr. D. Walmsley.

IN-SERVICE TRAINING. (as it was then based at Oldham Royal Infirmary).

Miss T Burgoyne. Mrs B Kitson. Mr W.McCarthy.

OTHER TUTORS FROM YEARS GONE BY.

Mr D Bridgehouse. Mrs R Scholes. Mrs S Cronley. Mr P Whitehead. Mrs A Squire. Mrs R Carter.

Mrs A Frost. Mrs A Rideough. Mr H Seymour. Miss K Higson. Mrs A Mulligan. Mr I Valantine.

Mrs H Ashworth. Mrs L Wade. Miss S Whitehead. Mrs L Pemberton. Mr P Mason. Mrs A Reeves.

(Director). Mr P Ling. (Principal). Mr E O`Callaghan. (Principal). Mr G Yanakis. Mr Boyton.

Miss Richards. Mr M Loughlan. Mrs E Yearns. Mr H Starr. Mrs H Makin. Mr M Rowan.

Mr. T Broadbent. Miss J. Higginson. Mrs Bishop. Mrs H.Ashworth. Miss T Burgoyne. Mrs M Stott.

BASED AT OLDHAM ROYAL INFIRMARY AND HOLLYBANK, WERNETH HALL ROAD.

Mr Stovell. Miss Nelson. (and Miss Nelsons assistant Miss Kneebone).

OTHER STAFF TEACHING ON SECONDMENT FROM THE WARDS.

Mr J Beever. Miss T Liddell. Miss P Knowles. Mr M.Stirland.