Coping After A Death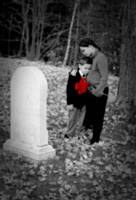 Click to zoom
Experiencing the loss of someone close to us is something that changes us and may change the way we understand the world around us. This takes time, usually more time than we realise but eventually most people are able to make these adjustments and look forwards. This is even more difficult if we also have to make major practical adjustments in our lifestyle

The effect of grief
You may feel overwhelmed by the emotions you experience and the intensity of this difficult time. Grief is the normal response to the loss of someone we love, and everyone's reaction is different. You may find yourself going through many different emotions such as numbness, anger, confusion or anxiety. Some people may find they have difficulty sleeping or lose their appetite.

Everyone's reaction to grief is unique, and different people may experience different emotions, even when they are mourning the loss of the same person.

Many people use the term 'get over grief' which can seem like it belittles the experience, although they are usually well-intentioned when they say this.

Who can help

Most people find the help of Family and Friends is enough to support them through the experience of bereavement.

However, sometimes it can be helpful to talk with people who have gone through a similar experience or with someone who is trained in supporting people who are bereaved.

Talk to your general practitioner if you are concerned that you are not coping. They can check that there is no physical cause for the way you are feeling and many surgeries have counsellors on their staff.

There are also self-help groups set up and run by the bereaved and other organisations, many of them charities which specialise in providing support to the bereaved.