Latics fight off rivals for Robbo's signature
Reporter: Matthew Chambers
Date published: 20 April 2017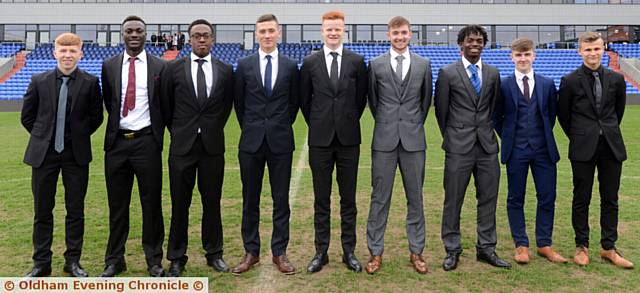 HOPING TO MAKE AN IMPACT . . . Ryan Scholes-Beard (let), Samuel Amankwaa, Javid Swaby-Neavin, Harry Norris, Ewan McFarlane, Declan Baldwin, Kelfala Sheriff, Harry Robinson, Max Norman.
HARRY Robinson, son of former Athletic manager Stephen, will line up for Athletic's youth team next season as a first-year scholar.

The club held off competition for the signature of the Northern Ireland under-18s international, who plays as a wide attacking midfielder.

Harry is one of nine new players to be officially inducted into the two-year youth programme.

JOINED

There, he will join second-year scholar Jay Sheridan - son of manager John - and fellow first-year Ryan Scholes-Beard, the Middleton-based nephew of former Manchester United and England midfielder Paul who also enters his first full season under academy boss Tony Philliskirk.

Aside from Robinson and Scholes-Beard, the other new names for the youth team for next season are:

* Ewan McFarlane, a goalkeeper from Leeds United who lives in Uppermill

* Declan Baldwin, a central midfielder from Horwich

* Harry Norris, a centre-back from Hyde

* Kelfala Sheriff, a winger or forward from Wythenshawe

* Samuel Amankwaa, a striker from Manchester

* Javid Swaby-Neavin, a right-back from Manchester

* Max Norman, a striker from Hyde

Meanwhile, Philliskirk says that striker Mason Fawns (18), who has been offered a professional deal from next season, has been handed the perfect chance to make the most of his talent.

Let go by Blackburn late last year, the former Failsworth School pupil has caught the eye with his creative performances in the under-18s' ranks.

He has also caught the eye when training with Athletic's first team both under Stephen Robinson and, more recently, John Sheridan.

"He is probably in the last-chance saloon here," said Philliskirk. "We have given him an opportunity and so far, he has responded to that.

"He is a bit of a game-changing player who can make things happen.

"If we can get him to match up to that ability in terms of conditions and work-rate then so much the better."

Sheridan has not seen an awful lot of Fawns, who grew up in the system at Blackburn, but says he deserves a chance.

"He is confident in himself and has a bit of an edge. I haven't seen too much of him, but the feedback I have had is that he has done well," Sheridan said.

"He deserves an opportunity of getting a professional contract. It is a big step up to first-team football. But we believe he has the capabilities of making the step up."

Dylan King and Brendy Glackin were among this season's second-year scholars told they would not be getting professional deals.

King's path to the first-team ranks appears to be hampered by the fact Athletic already have two young promising centre-backs in Jamie Stott and George Edmundson, while Glackin may not yet quite be physically ready.

"It's not easy to be told you are being let go and it's hard on the parents as well," Sheridan added. "I have got my son here and it's something you don't like doing.

"My brother (Darren) was released, went away and a year or two later he was playing in the Premiership. If you have the mindset to prove people wrong, you can come back."