Harbin returns
Reporter: Matthew Chambers
Date published: 29 June 2017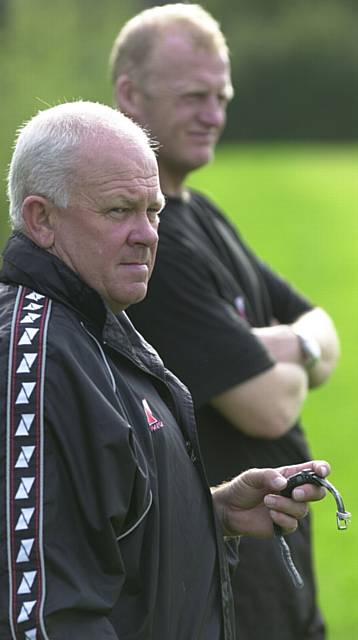 ON THE CLOCK . . . John Harbin, pictured during his first spell at Athletic with then boss Iain Dowie, put the players through their paces during pre-season training which got under way today.
JOHN Harbin is back with Athletic to put the squad through their pre-season paces.

The Aussie performance coach (70) has been brought in by manager John Sheridan, who previously worked with him at Plymouth Argyle, as the club's pre-season programme got under way today.

A fitness and sports psychology expert who attended several Athletic fixtures in the latter half of last season, Harbin is a former Oldham RL coach who quit the sport to work with Iain Dowie at Athletic before making the switch alongside him to Crystal Palace in 2003. There, the pair achieved promotion to the Premier League.

Sheridan has opted to bring in Harbin on what is currently a short-term basis that could be extended further if the arrangement proves successful.

Harbin also worked with Dowie at Charlton and Coventry and left his most recent job on the Northampton Town staff when manager Rob Page was replaced by Justin Edinburgh back in January. He had followed Page to Sixfields after the pair had linked up at Port Vale two years ago.

He adds plenty of know-how to the staff and will work alongside an assistant manager who has been identified without a deal quite being tied up yet.

PROGRAMME

As far as the overall picture is going at this stage, chief executive Mark Moisley is content with the progress of the squad-building programme and said that the club will look to use the loan market.

"First and foremost, we have managed to get the players whose contracts we wanted to extend tied down," Moisley said.

"We have made a couple of key signings in Dan Gardner and Craig Davies and the manager wants to bring another one or two in, in addition to using the loan market.

"When it comes to loans, we already have one or two players in mind for that."

The main targets remaining for Sheridan are two new goalkeepers, a left-back and a winger or striker.

n ATHLETIC will face Manchester United's reserves in the final friendly of pre-season.

The game at SportsDirect.com Park takes place on Tuesday, August 1, with a kick-off time of 7.30pm.

Entry is via cash payment at the turnstiles on the night and prices are £10 adults, £5 concessions and £1 under-12s.

The new Sky Bet League One season starts four days later with a home match against Oxford United.