Sheridan remains in the dark
Reporter: Matthew Chambers
Date published: 30 August 2017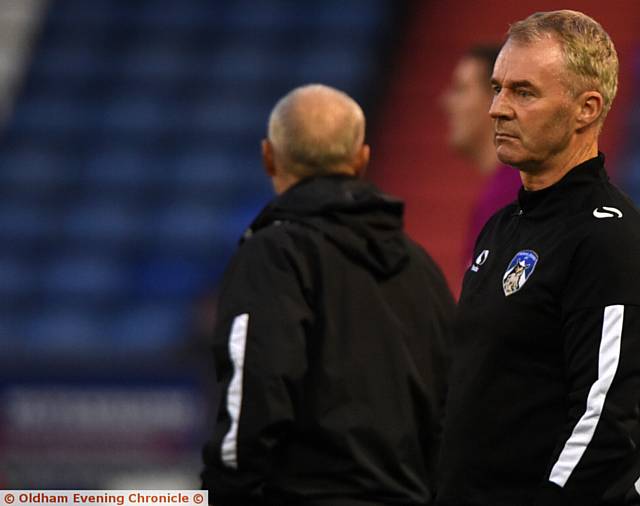 FITNESS CONCERNS . . . Athletic boss John Sheridan cuts a frustrated figure during last night's Checkatrade Trophy game against Port Vale
JOHN Sheridan isn't sure exactly what will happen to his squad between now and the transfer deadline.

And Athletic's manager is simply focusing on trying to get players fit before the visit of Charlton to SportsDirect.com Park.

Following on from last night's goalless draw at home to Port Vale and with the deadline arriving tomorrow night at 11pm, there is uncertainty at Athletic concerning a proposed investment from Abdallah Lemsagam.

Sheridan said: "I don't know what's going on regarding transfers and what-have-you.

"I'm just trying to get players fit. Everyone knows what my thoughts are an I have said it on a number of occasions.

"We have to try to get one or two back for Charlton.

MUSCLE

"I'm concentrating on the team and what is available. What may happen before Thursday, we will see."

One player who won't be fit for some time is Gyamfi Kyeremeh.

The Belgian winger has suffered a torn groin muscle in training and he is the sole long-term injury concern among the squad,

Sheridan had praise for new boy Jack Byrne after a promising debut against Vale, but felt his side were again found wanting for sharpness in attacking areas.

Byrne completed his loan move from Wigan, which runs up to January 1, in time to play in a draw which was followed by a 4-2 loss in a penalty shoot-out.

"The performance was a little bit better and Jack Byrne came in and did really well," said Sheridan, who at least halted the five-match losing run from the start of the campaign.

"On the ball he was excellent.

TRAINED
"It was his first game and he hasn't trained too much with us.

"He was cramping up a bit at the end but wanted to stay on.

"You could see the quality he has got.

"He did well for his first game."

The overall performance, Sheridan felt, was lacking in an attacking sense.

"We didn't play too badly, but goals obviously win you games.

"We didn't really work the goalkeeper again," he added.

"Football-wise, we didn't play too badly. We played a team who, with no disrespect to Port Vale, are in the league below us.

"I expect us to win the game and we haven't. Even going into the penalty shoot-out, I expect us to win that.

We need to get one or two bodies back. We move on and keep fighting for the cause.

"I can assure the fans, after the support they gave us at Blackpool it's hurting me we are not winning games for Oldham. I assure them I'll be doing my utmost to try and turn things around. It's down to me and the players."

In the other Checkatrade Trophy game in Athletic's Group 'D', Newcastle United's under-21s won 2-1 at Crewe.