Graham the driving force behind Latics
Reporter: Tony Bugby
Date published: 06 January 2009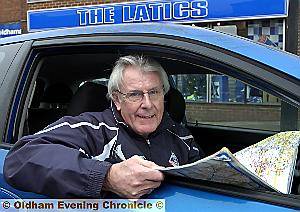 BE PREPARED . . . Graham Brown has it all mapped out.
GRAHAM Brown has travelled the equivalent of eight times around the world in less than three-and-a-half years in his drive to help bring success to Athletic.

The 64-year-old, who is the club's chief scout, will next month complete a mind-blowing 200,000 miles since taking delivery of his Honda Civic diesel in August, 2005.

It is a staggering amount of travelling on an increasingly gridlocked road system in this country.

But Brown accepts that driving an average of 1,200 miles each week is one of the pitfalls of his job.

He said: "The roads are a nightmare. Where once you could predict a journey time, that is impossible now.

"But in an effort to minimise hold-ups, I have tried and tested routes to most grounds.

"I avoid the M1 and M25 at all costs, preferring to use the upgraded A1 and M11 when travelling to the South-East and M42 and M40 to the South-West."

Brown said the travel statistics are even more remarkable when you bear in mind he doesn't have any games to cover during a three-month period each summer.

He added: "That means I have driven just short of 200,000 miles in about 30 months.

"When I get back from an away game at 2am that is the unglamorous side of football.

"But I have been doing it for so long that I accept it as a matter of course and it does not bother me as it is a job I love."

Brown's brief as chief scout is to provide opposition reports for Athletic manager John Sheridan.

He also has to check out players who are recommended to the club.

That invariably entails watching four or five games each week and, to make matters worse, Coca-Cola League One is easily the worst in terms of travelling.

Hartlepool and Carlisle are the most northern clubs in the division, while heading in a southerly direction Brighton, Yeovil and Colchester are all 500-mile plus round trips.

Brown usually spends each Friday morning at Boundary Park discussing his schedule for the following week with Sheridan.

Brown, who arrived at Boundary Park as a member of Ronnie Moore's management team, has been at Athletic for three-and-a-half years, initially doubling up as goalkeeping coach.

Before that he was chief scout at Rotherham for eight years, having returned to football after a spell out of the game as a salesman for a skip hire business.

In his playing days he was a goalkeeper who appeared for the likes of Millwall, Mansfield, Swansea, Doncaster, York City and Rotherham, making 350 appearances.

Brown also had two spells in the North American Soccer League with Portland Timbers and one goal he conceded will never haunt him as it was scored by Pele, who was starring for New York Cosmos.