Deal or no deal? Sheridan's poser
Date published: 28 April 2016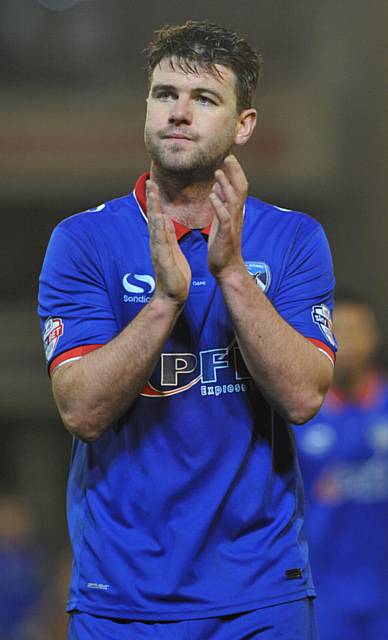 MAJOR PLAYER . . . Anthony Gerrard has done a terrific job in shoring up the Athletic defence.
ANTHONY Gerrard heads the list of players Athletic will try to entice back for a tilt at the play-offs next season.

The 30-year-old centre-back is one of 19 players who are out of contract this summer. As it stands, there are only FOUR men with deals already in place for next season.

He will certainly be courted for a longer-term stay at SportsDirect.com Park ­— but the picture is far less clear for a host of others as talks loom over deals.

Here, we assess the tough decisions that manager John Sheridan will face as he tries to build a squad capable of attacking the top-six in 2016-17.

OUT OF CONTRACT:

Joel Coleman* ­— A certainty to be kept on, the 20-year-old has been in superb form lately and has impressed watching scouts with his performances.

Joseph Mills* ­— Has hardly featured all season, with the form that made him a star in his initial loan spell at the club having vanished. Will surely be looking for a new club.

Timothee Dieng* ­— The young French player has risen to prominence under John Sheridan, both as a centre-back and a defensive midfielder. He has already state his willingness to remain at the club and should stay.

James Wilson ­— The quick defender has struggled at times this season and was having a hard time of it before Sheridan's arrival, since when he ha shown excellen form. Will probably be offered terms, but will he take another deal?

Lee Croft* ­— Out of the picture completely up until starting at Fleetwood.

The experienced winger has played well since then, but Sheridan has a big decision to make as to whether he wants him as part of next season's squad.

Mike Jones* ­— One of last season's stars, the hard-running midfield man has had a campaign blighted by injuries and changeable form. Versatile and reliable, but another one not guaranteed to be offered fresh terms.

Dominic Poleon ­— The striker is a rare example of a player Athletic have paid money for, but the club haven't had value out of the striker. He can be brilliant ­— as at Gillingham -- but too often isn't effective. As one of the club's bigger earners, he will probably move on.

Jonathan Forte ­— Though injuries have ruined most of his season, he has come back strongly of late. Again, the question is whether Athletic can get full value for money out of the 29-year-old to justify the outlay on wages.

David Cornell* ­— David Dunn's choice as his first-choice goalkeeper, the former Swansea player made crucial errors to lose his spot to Coleman. Hasn't featured at all under Sheridan's charge and the manager could opt to let him go.

Carl Winchester* ­— The Northern Irish starlet hasn't kicked on from his impressive season in 2014-15. However, he has shown in patches what his talent is capable of and should land an extension to his current contract.

Anthony Gerrard ­— Without a doubt, one of the main reasons Athletic have survived in League One. The imposing defender wants to go back to the Championship, but there is no doubt Athletic would love him to remain at the club and will push hard to put a strong deal on the table.

Rhys Turner ­— Started the season in the first XI at Walsall but the striker has fallen from prominence and has been sent out on loan to York and Macclesfield before suffering an injury. May get another chance, but it's more likely the 20-year-old will be seeking pastures new.

Brian Wilson ­— Another player who has fought his way back in, after going out on trial to Notts County last summer. Has been praised by Sheridan for his unobtrusive but effective approach. Again, the equation of wages versus time on the field in a first-choice line-up needs to be squared.

Theo Vassell* ­— Signed by Dunn, the centre-back was tipped for big things but even a loan to Chorley didn't work out due to a paperwork glitch. Could struggle to be kept on.

Jordan Bove ­— Out on loan at Ashton, Ramsbottom and currently Droylsden, the striker (20) hasn't played at all for the first team this season, meaning the signs are ominous for his remaining at the club for another year.

Jack Truelove ­— The left-back showed up well in pre-season but has since been out on loan at Brackley, Curzon Ashton and Hednesford. Again, may be best served by leaving to play regularly elsewhere.

George Edmundson* ­— There is no doubt that the 18-year-old centre-back will be kept on, having starred for Sheridan in two virtually faultless appearances in the first-team.

Danny Byrnes* ­— On loan with Bove at Droylsden, where the tricky winger has been receiving positive reviews. May well be given another season.

Jack Tuohy* ­— The two-footed midfielder is another to have had a taste of action under Sheridan, who has gone on the record as rating his attitude. Will surely stay on at the club.

*Option for another year.

UNDER CONTRACT:

Connor Brown (another year); Liam Kelly (another year); Jake Cassidy (another year plus option); Rhys Murphy (another year plus option).