Seeds sown for great future
Reporter: Simon Smedley
Date published: 07 February 2017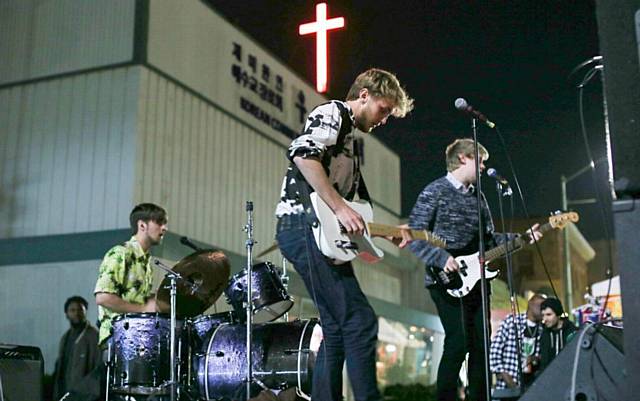 GARDENBACK . . . in the USA. Picture: CAIDIN KENNARD
GARDENBACK are in a good place right now - Oldham ­- and, armed with a couple of terrific newly-recorded tracks, are looking to make a big impact on the local scene this year.

The early 90s alt rock-influenced band - Neil James, Ellis James and Jacob James (no relation, they insist they are brothers like the Ramones are brothers) ­- have been together since meeting up at Oldham Sixth Form College in 2011, but now they're all back in the borough again, Gardenback are ready to truly make their mark.

Venue

The band are still fresh from smashing Manchester's Castle venue over Christmas at a charity showcase night which also featured the Twisted Dolls and Night Host, and will head into the Voltalab Sound Studies clearly bursting with confidence.

Ellis said: "It (the Castle) was one of those nights where everyone who played was good, the crowd were great and at the end of the night we were just overwhelmed.

"To be honest these last six months, because we've all been pretty much in the same city for the same time, it's been quite a galvanising time.

"We've found we've had time to actually think about what we want to do properly.

"We've had time to think about what songs we want to take into the studio.

"They are 'Sleepless' and 'Call it a phase'.

"We've played them both a couple of times at gigs, and there's been a positive reception.

"Particularly 'Sleepless' we're very confident about.

"We've got ourselves into a settled rhythm of exactly how we want ourselves to sound."

Study

It's probably fair to say that college and university has got in the way of Gardenback's progression in recent years, but when Neil took the whole of 2015 out to study in San Francisco, Jacob and Ellis didn't want to miss the chance for their band to make a name for themselves Stateside!

"Jacob and I went over there for two months," added Ellis.

"We played a couple of gigs and they really were a lot of fun.

"The audiences were up for it, and we got a great reception.

"One good gig was on the streets of Oakland at an open air festival, and then we played at the 'Depot' venue at the university.

"We didn't realise until we got on one of the bills the size of the venues. One was roughly the size of the Night and Day in Manchester and that was great.

"The American audiences were just very receptive to our music, and they were very keen to come up to afterwards to tell us how much they enjoyed the gig.

"That was nice. It's always nice to get a bit of an ego-boost, if nothing else."

Gardenback's ego was given a further boost the other week when Mossley's soon-to-be megastars Cabbage gave them their backing in a social media post.

Neil said about the timely fillip for the band: "We half knew Lee (Cabbage vocalist Broadbent), but one of our close friends passed him some of our stuff and apparently he really liked it.

"We weren't expecting to hear anything, but I just woke up one morning, saw the post about us on social media, and we just started getting stuff flooding onto our Facebook page.

"It was just so nice to be given a shout-out by a band that we respect a lot, and with them being a local band too, it was brilliant.

They play the Aatma venue in Manchester's northern quarter for Emerging North Live on Friday, February 17, and also Dave Sweetmore's Easter Sunday '12-hour Resurrection' at the Indiependence Club in Wigan.