oldham launches A night and day takeover...
Reporter: Simon Smedley
Date published: 28 March 2017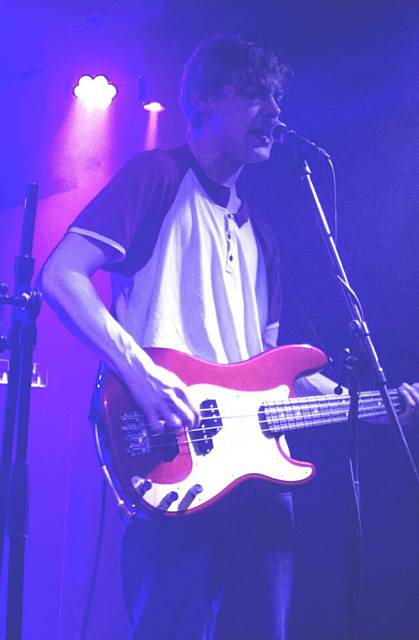 Photo: James Barlow
Gardenback
REVIEW

This Feeling at the Night and Day Cafe, Manchester, featuring Gardenback and Proletariat

IT was quite some night when Oldham roared into Manchester's iconic Night and Day Cafe venue in the Northern Quarter - and they well and truly smashed it!

That's right, I was inside the packed venue for the latest Manchester showcase night from national promoters This Feeling, and two of the four bands - Gardenback, from Saddleworth, and Mossley's Proletariat - did our town proud.

The vibe inside was already buzzing when I dashed through the doors, 15 minutes before Gardenback took to the stage.

Of course I've covered both these great local bands extensively, and I loved Gardenback the first time I saw them earlier in the year at Aatma in the city centre.

Could they deliver again? Indeed they could. For a three-piece these guys really are something special.

Front-man and bassist Ellis got his vocals just right throughout the half-hour set, with the two new tracks, Sleepless and Call It A Phase, released just that day, really getting the treatment thanks to the super-tight help of ace guitarist Neil and drummer Jacob. Gardenback give off a booming sound that can also transfer to something much more beautifully subtle.

First-time played track Bulldogs was great too - no wonder the reception was raucous as the band made way.

After Sons had screamed their way through a set, it was Proletariat's turn - and they made an equally unforgettable impression.

For a band who have hardly been together five minutes, Proletariat - led by the super charismatic and confident James Cummins - charged through their set of eight potential classics.

Always The Same and No-one Believes were bang on, while the audience truly lapped up closing number Mr Brown - clearly a future favourite.

The venues for the best unsigned acts around might have to stay city-based, but again Oldham proved it's set to keep churning out mega-talented musicians.

Meanwhile, all this was going on at the Night and Day when Royton indie hopefuls The Recreation were rocking their own sold-out night at Aatma, a couple of hundred yards away. That was also a fantastic gig too, I'm told.

Supported by Wax Colour and M60, The Rec - Owen, Tom, Sam and George - made sure our town was very well represented on a memorable weekend night. Rec front-man Owen said: "Aatma was bouncing. It was an absolute class night."