Runaway train keeps on rolling
Reporter: Martyn Torr
Date published: 26 November 2013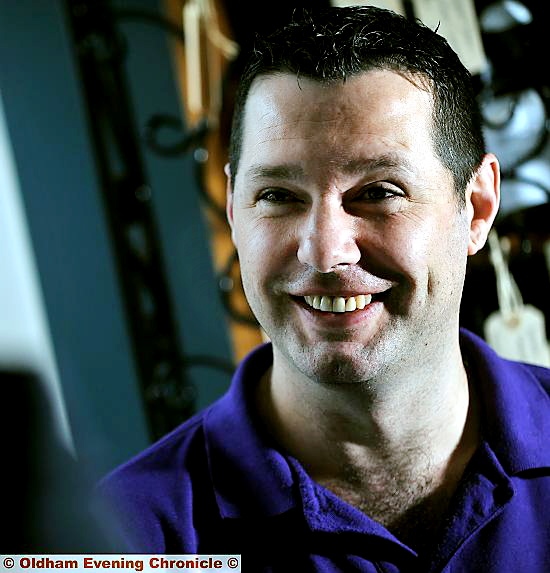 Gavin Wheeldon
Martyn meets... "driven" businessman Gavin Wheeldon
FOR a bloke with just about everything — gorgeous wife, delightful young daughters, big house in Saddleworth, plenty of money — Gavin Wheeldon is still a driven man.

Not that you would know it from a chat over coffee.

He remains as chilled and laid back today as the first time we talked about the life and times of a seriously wealthy self-made millionaire.

Our first meeting was during the Northern Achievers' Conference in 2011, a fantastic event which didn't receive nearly enough support from the Oldham business community. The life story of this former Mossley Hollins pupil was fascinating.

Gavin (37) from Uppermill is the bloke who set up, built then sold up Applied Language Solutions, the company that later went on to controversially run the nation's judicial system translation services. Gavin smiles enigmatically and concedes that yes, he's no longer skint.

A bit of an understatement given the sums involved. Unless he goes completely mad, he and his family will be comfortable for life, deservedly so. Gavin may be ultra-rich, but he's still one of us.

He just happens to be exceptionally good at making money through technology.

The miner's son was born in Leicester and spent some of his childhood in Canada and South Africa before arriving in this area.

Among his memories of Namibia is the young Gavin being dressed in two yellow dishcloths, catching huge lizards on his mother's kitchen floor. "I thought I was Tarzan," he recalls with a chuckle.

As the mining industry petered out, Gavin's parents Harry and Denise bought a shop in Middleton before settling in Mossley.

Gavin started computer studies at Tameside College but didn't complete the course: he was already earning - making cold calls for a kitchen manufacturer in Stalybridge from the age of 14. at which he did well enough to graduate to windows, where there was real money to be made.

His ability to sell took him into publishing, and at 19 he was soon managing a team of 30 in Stockport. Three years later, now living in Audenshaw, he spotted a gap in the market and left to set up a business compiling databases of business contacts.

"I remember the first order for £50. We were on our way."

The business grew rapidly - far too rapidly. Though he repaid the £5,000 in loans from his father and the bank, the business went down.

"My overheads outgrew the income," he said. "I kept looking at the numbers and didn't take into account late payers and non-payers and people who went bump on me."

It was a painful lesson, but he can laugh now at the memory: "It was experience. Had I been in America I would have been applauded for having a go, but in England I was a failure."

But not for long.

Gavin sold his house, moved into a one-bed flat in Didsbury and got a job in London with Pricewaterhouse Cooper, one of the country's largest accountancy practices. He was part of the team that sold the largest e-procurement system in corporate history, helping to persuade the Executive of the new Scottish Parliament to buy PWC's software systems.

"It was a £32 million deal. I was on a train back to Didsbury for the weekend when I took a call saying we had won the contract. I celebrated with a can of Carling from the buffet car."

The boy was back, if not quite on the gravy train, then certainly on the right track. He was headhunted by a language and translation company in Leeds that had just won £5 million in equity investment to grow, and needed a man with Gavin's skills.

Gavin's background in technology — he was building PCs at seven and writing code as a teenager simply because he could — opened his eyes at the potential for technology in the interpretation and language industry. Pretty soon he was off again.

Now living in Meltham, he quit his job and set up Applied Language Solutions in his back bedroom.

With the mistakes of his last venture, not to mention his lost £15,000 savings, he set about building the business which eventually employed more than 200 people directly and had customers in 91 countries. Turnover peaked at £12 million.

His idea to develop interpretation software was a winner; his website quickly attracted up to 30,000 unique hits a day.

His first paid job was to interpret a birth certificate for a few quid but soon he had signed up PC manufacturer Hewlett Packard and was translating all their sales brochures for markets around the globe.

His status grew - especially when he appeared on hit BBC show "Dragons' Den".

"I asked for the most ever and offered the lowest equity ever. Duncan Ballantyne offered half the money, but I wouldn't have sold anyway. I had no intention of doing a deal. It was a publicity and marketing exercise."

Ruthless? You bet. He was quickly out of Meltham and into a space in Huddersfield, and from there to an old textile mill.

New customers were coming on board all the time and Caterpillar, one of the world's largest companies, signed a contract to translate its literature into many languages.

Dell and Yahoo! — huge global names — also joined his client list.

Gavin won gongs galore — the Queen's Award for Enterprise (twice), Fast Track 100 Companies, Businessman of the Year with numerous bodies.

"It was a runaway train, but this time I kept my eye on the financial ball. I even went on a short course about accountancy — I wasn't going to make the same mistake twice."

Then came the deal that was to change his life. ALS, now at Riverside Court in Delph, beat 75 other bidders to a Ministry of Justice contract for interpreation and language services and courts all over the country.

"We were already doing this work in the North-West, and successfully," he explained. "We had broken a few taboos and beaten the established order which was costing the country a fortune.

"Interpreters were making huge amounts of money - and that's why we weren't popular."

Days after ALS won the national contract he opened a note on LinkedIn — a national network for business — asking about ALS. He travelled to London and after rejecting several bids eventually sold ALS to Capita Group.

"I owned 92 per cent, so I could make the decisions and I remember sitting in a curry house in London and rejecting yet another offer from the chief operating officer.

"He asked what terms I would take — I told him, he accepted and the deal was done."

The deal was cash up-front and lots, lots more, down the line if Gavin stayed four years and the business continued to grow. But he quit within months.

"Corporate life was not for me, I was too used to being my own boss. It had nothing to do with problems with the business or all the stuff you read in the press.

"When I left we were meeting 95 per cent of our commitments, which was a 15 per cent increase on the previous system and at a fraction of the cost to taxpayers."

He admits to feeling huge relief on the train back from London after telling Capita he was quitting.

Within weeks, Gavin was back on the treadmill. He bought some independent technology businesses in and around Saddleworth — including ADSL in Riverside Court — and created the So Purple Group.

He paid £1 million for ADSL which he has already sold for £1.5 million and is now doing deals with his Purple Wifi business which will see his technology in KFCs, Taco Bells and Pizza Huts across the USA.

The wifi business is already at all the ski resorts operated by Tui Travel in Europe and he has business interests in Australia, New Zealand, South Africa, Singapore, Turkey, Netherlands, Italy and Spain.

Gavin is determined to win another Queen's Award and the deal he has just signed off with Cisco Systems - one of the world's biggest networking companies - should see him on easy street for a few more years.

But if you bump into the guy in Uppermill with his wife and two young daughters you will encounter a family man enjoying his life and times. Hang on though: I suspect we haven't heard the last of this serial entrepreneur.