Livin' La Vida Loka..
Reporter: Simon Smedley
Date published: 23 February 2016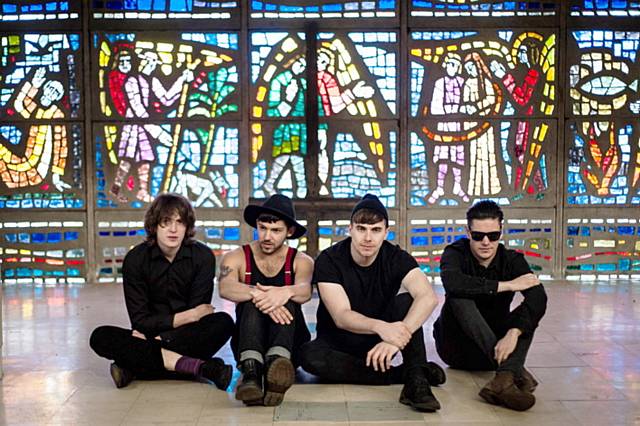 Photo: Sam Pya
Brahma-Loka
MUSIC EXTRA: MOSSLEY psychedelic rockers Brahma-Loka continue to be proud of their roots, but they are also looking to spread their wings outside the UK once again this year.

It's been a whirlwind 18 months since guitar/vocalist Paddy Neville (24), guitarist Will Owen (25), bassist Josh Leach (25) and drummer Lee Broadbent (24) first got together after all spent time in earlier musical incarnations.

Since the summer of 2014, Brahma-Loka have gigged almost relentlessly, but mostly abroad.

Neville said: "We covered most of mainland Europe and even Scandinavia.

"It was amazing. The whole experience of travelling around in a horse van — that's our transport — was great. We just put a mattress in the back of it and away we went.

"Even the bad days were great. You do feel like you own the world at times, but of course it's then humbling when you get back home."

Brahma-Loka's tight, eclectic sound has earned plenty of plaudits over the past 12 months, not least from Bill Ryder-Jones, the former guitarist with Wirral stars The Coral. He has produced a couple of tunes for the Mossley hopefuls.

Neville explained: "We've been recording at Parr Street Studios in Liverpool and it might go towards an album or possibly just a single release.

"We've laid down two tracks over three days, but for now it's all a bit up in the air as to what's next.

"It's about times and dates and people being available."

To achieve their dreams of success, Brahma-Loka acknowledge London will have to be one of their ports of call, though Neville is clearly not the capital's biggest fan.

"I think it's inevitable you have to play there if you want to make it," he said. "It can be a fickle place, though. It's like certain people just have to click their fingers. In cities like Manchester, if people like you they'll just come and see you."

Catch Brahma-Loka at Manchester's Sound Control on March 5 or at the brilliant Cosmosis Festival at the Victoria Warehouse on March 12.