August bank holiday Mod Weekender in Brighton 2016 review
Reporter: Simon Smedley
Date published: 02 September 2016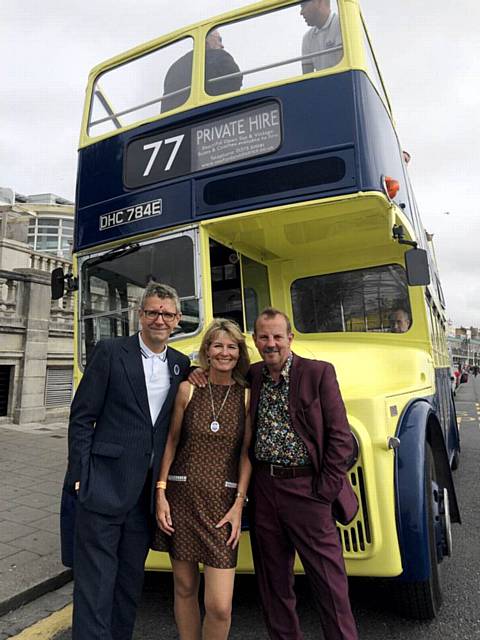 Lyn Neville and Damian Partridge with Gary Shail, Spider in Quadrophenia.
August bank holiday Mod Weekender in Brighton 2016 review

IF you've always been into the mod scene as I have - it's now 34 years and counting - then the annual August bank holiday Mod Weekender in Brighton is one event you must tick off your bucket list!

Even if you're not necessarily into mod music, the clothes, the history, then at least the scooters and the whole vibe in general - particularly on the Sunday - make for a real treat for 60s enthusiasts in Brighton, even though it might be a long way to travel to get your kick.

Of course the majority of the cool faces and their smartly-dressed ladies hail from London and the south-east, but when I finally took in the event for the first time the other week, it didn't disappoint.

Although the New Untouchables tend to organise the 60s-themed club nights around Brighton across the weekend, the highlight for me and my missus was the free Modern World Live Village event put on throughout the Sunday by Modern World Cafe chief, the now legendary Neil Sykes.

What a terrific and memorable day Neil organised, one which raised much-needed funds (almost £3,000) for the Healing the Brave charity.

It kicked-off at 10am in the morning, and as the rain just about held off, there were DJ sets, band appearances from the likes of Idle Talk, the Credits and Mr Clean, and a raffle to win the main prize of a Union Jack-themed Vespa scooter.

Neil deserves a medal for putting on such a great day out, and judging by the support he received in terms of faces and their beautiful scooters - of which good numbers had come from 'up north' and even as far as Scotland - it's little wonder he has already begun work on pulling together next summer's mod extravaganza.

If you do take the plunge and go for it, please make sure you book on the Quadrophenia-themed open top bus tour.

For just a tenner we hopped on the top deck and enjoyed all the music from the iconic 1979 film, which was set in Brighton of course, helped along by excellent and experienced tour guides Lyn Neville and Damian Partridge from the Brighton Walks official tour company.

They offered - with the help of actor Gary Shail ('Spider' in Quadrophenia) - informative anecdotes and mini-history lessons which went down brilliantly with everyone on the packed-out double decker.

Check out www.brightonwalks.com for details of their forthcoming tours, of which there is a wide selection on many different themes.

Overall the Mod Weekender was quite an experience - I just missed my Vespa too much!