Passing of a true legend
Reporter: Oldham Roughyeds round-up by MATTHEW CHAMBERS
Date published: 04 February 2009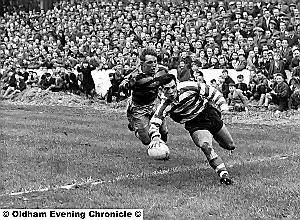 ALAN Davies, pictured scoring for Oldham in a 14-6 win over Wigan in March, 1957.
Former wing partner Etty pays tribute to Oldham and GB great Davies JOHN Etty has paid tribute to the great Oldham centre of the 1950s, Alan Davies, describing him as "the complete footballer".

Davies died at the weekend in a Blackburn hospital, four days shy of his 76th birthday.

But team-mate and wing partner Etty, who still holds Oldham's post-war record of 43 tries in a season back in

1956-57, still remembers the moments of magic the former Great Britain centre produced in Oldham's vintage years as clearly as if they were yesterday.

"I am very sad he has died," said the Batley-born Etty. "I regard him as one of the best internationals I have met and playing alongside Alan it was easy.

"He created so many opportunities. But two in particular come to mind.

"One was the Championship Final of 1957, when we beat Hull 15-14. Alan had made a terrific run towards the Hull goal line and he was expected to pass the ball to his wingman, Dick Cracknell.

"But instead, he tricked the Hull defence, turned back and gave the ball to Ayers on the inside.

"The other occasion was at Halifax one evening. They were a terrific side who hadn't been beaten at home for a year.

"The game fluctuated but at the end, Alan made a curving run to the left corner and came to me but there was very little room left to the touchline.

"I allowed him to run in front of me and just said one word to him — 'inside'.

"He drew the line and produced the most perfect pass for me to score.

"Alan compared very well to the internationals he came up against and always put up a good show."

Davies is widely regarded as one of the sport's post-war greats and many say he is the finest player ever to have worn Oldham colours.

A centre of rare skill and lightning pace, he played 391 times for Oldham between 1950 and leaving 1961, scoring 174 tries in that period to take his place as the club's all-time top try scorer, a record unlikely ever to be beaten.

Davies played 20 times for Great Britain, touring Australia with the squad in 1958, and is a member of the club's Hall of Fame.

Originally from Leigh, Davies joined the club from amateurs Dootsons and went on to claim a mountain of honours at Watersheddings including the Lancashire Cup in 1956, 1957 and 1958 and that Championship Final triumph over Hull in 1957.

On leaving Oldham, he joined Wigan where he played on the losing side at Wembley in the 1963 Challenge Cup final against Wakefield.

He leaves his wife, Joyce, son Stephen and three daughters, Linda, Sarah and Janice.

A funeral service will be held on Friday at the Jehovah's Witness Kingdom Hall in Astley Street, Darwen, near Blackburn, at 3pm.

The Kingdom Hall telephone number for people wishing to make inquiries is (01254) 773693.

A minute's silence will be observed in memory of Davies before kick-off when the Roughyeds entertain Rochdale Hornets at Boundary Park on Sunday (3pm) in the Northern Rail Cup.