Made in Oldham
Date published: 11 March 2011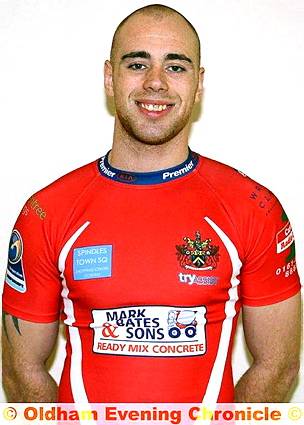 Alistair Williams . . . in contention for a place in the starting 13
WHAT price Roughyeds to field an entire threequarter line of Oldham-born players in Sunday's first Co-operative Championship One game against Gateshead Thunder at the Whitebank Stadium (kick-off 3pm)?

Three of the four — teenager Matthew Fogarty, Jack Bradbury and Mark Brocklehurst — carried the "made in Oldham" trademark into last week's third-round Challenge Cup win against Hunslet Warriors.

Yorkshireman Marcus St Hilaire was the odd man out, but he won't play against Thunder because of a hamstring injury and his replacement is likely to be either Alistair Williams or Ben Wood, both born and raised locally.

Williams could be a straight swop for St Hilaire or he could be given his big chance to break through on the wing, with Brocklehurst moving inside to centre.

Although primarily a back-row forward, Wood played a few times in the centre early in the season. To relocate him into the threequarter line a second time would be an option for coach Tony Benson, especially as Andy Isherwood is due to return after being given last week off because his wife was in hospital.

Either way, all four outside backs are likely to be products of junior rugby in Oldham, and it's many a year, if ever, since a Roughyeds threequarter line was constructed like that.

"To see so many young Oldham lads playing for Roughyeds is good for the club and good for the town," said captain and long-serving stand-off Neil Roden, a Wiganer.

"We've got a tough few months ahead of us as we strive to get out of this division and the young Oldham-born lads are going to play a big part in all we do."

The 21-man squad from which Benson will select his 17 to go under starter's orders in the league campaign contains eight local players — Williams, Fogarty, Brocklehurst, Wood, Bradbury, Mick Diveney, Danny Whitmore and Chris Clarke. The average age is 21.

Said Benson: "Most of them are playing open-age rugby for the first time and the next few months will be a big learning curve.

"We beat Gateshead 68-10 at the Whitebank last year, but you can't take them lightly. You never know what sort of a side is going to turn up.

"We're not at our best at the moment, so we'll need to be patient and to concentrate for 80 minutes."

Wood (ankle) and prop Tom Wood-Hulme (shoulder) have had treatment, but both are expected to be ready in time.

Thunder coach Richard Pell is hoping to have a new stand-off on show.

The Tynesiders were buoyed by last week's cup win at Milford Marlins and captain Jason Payne has warned Roughyeds that it will be a different game to last year.

"All the boys are up for this one," he said.

"Oldham have been in the last four grand finals, and they'll be up there again this year, but that's our league. We're in it, so let's get on with it."




OLDHAM reserves' scheduled game at York last night was postponed after high winds blew down the rugby posts.