Pro deal for Thompson
Date published: 06 September 2011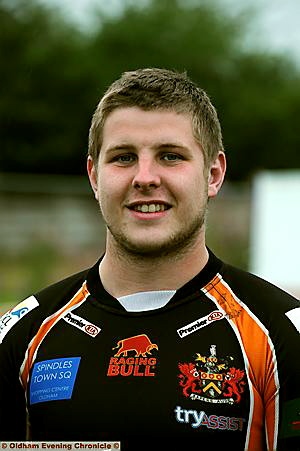 LEVEL HEADED: Alex Thompson.
OLDHAM RL Club's 2012 team-building operation continued today with the capture of former Warrington Wolves youngster Alex Thompson.

A loose-forward, Thompson becomes the fourth player from the Roughyeds' reserves squad to sign a professional contract, which runs to November 30 next year.

Like Jamie Dallimore, David Cookson and Danny Langtree, 21-year-old Thompson has proved his worth in John Hough's under-23s and has been rewarded with a deal which ties him to the club for the next 14 months.

Highly rated, and a player who has sampled the trappings of life as a full-time pro in Super League, Thompson says Oldham rekindled his enthusiasm for the sport after his time with Warrington came to an end.

He is expected to join the Roughyeds' first-team squad in time for pre-season training in the autumn, if not before.

"Alex was full time and on decent money at Warrington," said Oldham chairman Chris Hamilton. "But he fell out with the game when things didn't work out as he would have wished.

"He came to us last year and we are happy to say his appetite for the game has been restored.

"With his background and experience he is definitely capable of becoming a first-team regular.

"His experiences in rugby have left him with a very level head on young shoulders. He is streetwise, yet very realistic. It was refreshing to deal with somebody like that."

Two years ago, aged 19, he scored his first Super League try against Harlequins, but a burgeoning career at Warrington hit the buffers following a change of coach, and a change of direction.

"It knocked the stuffing out of me," recalled Thompson. "I had turned down St Helens and Salford to go to my home-town club, and then that happened. I didn't know what my next move would be.

"Firstly, I had to sort out a job and I started my own landscaping business. Rugby was put on hold.

"Eventually I spoke to a few clubs, including some in Super League, but they didn't appeal to me. Then John Hough rang me and invited me to Oldham, at first just to take a look. I felt at home immediately,

"I played a few games in the reserves and loved it. That was last season. This year we have had a superb season.

"Now that I've signed as a pro I've got my sights on the first team. I'm not in it for the money, I'm in it because I like rugby and I like being at the club.

"It's a club that's on the up and I want to be part of it as it moves forward."

Hough's under-23s, who finished second in the Reserves Championship, face their biggest game since they were formed three years ago when they take on leaders Widnes Vikings at Widnes RU Club on Saturday (2.30pm kick off) in the play-offs.

The Junction Inn, Ripponden Road, are running a bus to Widnes (£10) and also to the Championship One play-off game between Rochdale Hornets and Oldham at Spotland on Sunday (3pm kick off).

Ring the Junction on (0161) 633 2759 to book.

Normal admission prices apply at Spotland, £12 adults, £8 concessions and £5 for under-16s.