Fumble triggers new collapse
Date published: 30 August 2016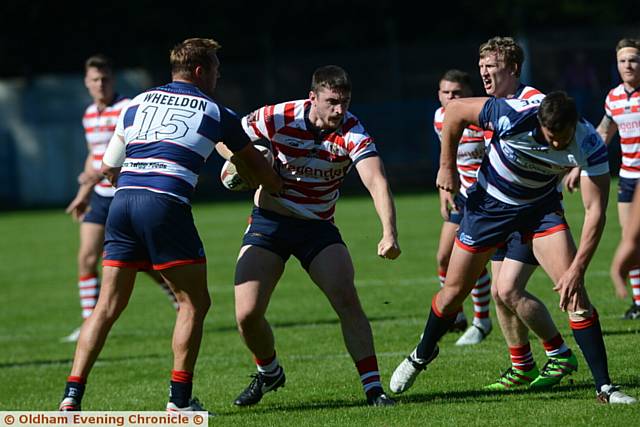 FIND THE GAP . . . Joe Burke looks to punch his way through
FROM being in a strong position at 12-0 up midway through the first half, Oldham collapsed alarmingly after Liam Johnson's clanger in fumbling a restart kick.

You can talk all you want about puzzling refereeing decisions, about Richard Lepori's red card for striking, about Rob Worrincy's knock-on that went unchecked and led to Sheffield's fifth try and about the touchjudge's decision to disallow Michael Ward's touchdown when he chased David Hewitt's grubber early in the second half.

ALARMING

All those contributed to Sheffield's 54-24 win, but not as much as the home side's alarming capitulation midway through the first half which seemed to be a direct result of dual-reg Johnson's inability to cope with Cory Aston's restart.

Unlike many other games in this roller-coaster season, Roughyeds started strongly with a side which saw the return of Adam Clay, Joe Burke and Liam Thompson plus Johnson's recall at right-centre because Sammy Gee was injured and Scott Turner was unavailable.

Phil Joy, Will Hope and Kenny Hughes didn't make it, but the 13 who started looked in control early on, only determined Sheffield defence denying Jamel Chisholm and Kieran Gill at the corner flag.

A Chisholm handling error put Roughyeds on the back foot, but the ever-alert Gill turned defence into attack with a 90-metre interception try, which Lewis Palfrey goaled for a 6-0 lead.

Gill is making a habit of scoring tries like that and in this instance it inspired the home side to go further ahead approaching the 20-minute mark.

Thompson made a powerful drive and from 15 metres out, Owen weaved his magic from dummy half to send in Hewitt by the posts. Palfrey obliged with the conversion ­- 12-0.

What happened next was to change the tempo and momentum of the game in the flash of an eye.

Johnson's error was the game's big defining moment because Oldham were never the same again, displaying weaknesses in defence once Eagles had momentum and plenty of possession in the home half of the field.

In six sizzling minutes Sheffield scored three tries by Menzie Yere, Quentin Laulu-Togagae and Ben Blackmore, one conversion by Aston giving them a 14-12 lead.

Scott Wheeldon's break out of defence, pushing through Tyler Dickinson's challenge, set up QLT's try despite defensive heroics by Lepori.

Eagles were in dominant mood now and Wheeldon went close before a cut-out pass to the right got Blackmore in at the corner.

From Oldham's perspective worse was to follow. Mark Mexico exposed more suspect goal-line defence. As he crossed the line there was a skirmish in the far corner, players of either side appearing to push, shove and punch.

When it all calmed down, Lepori was sent off, leaving Naylor's men to do battle a man short against full-time opposition on an extemely hot afternoon.

It couldn't get any worse . . . could it ? On the stroke of half-time Aston's kick was knocked forward by Worrincy, but play was allowed to continue and Michael Knowles touched down. Aston's goal gave Eagles a 26-12 interval lead.

Ward was denied a try in the 45th minute on a touchjudge's ruling, but Eagles were in total command now and quickly added further tries by Yere, Fozard and Chappell (two) before Roughyeds hit a purple patch and scored 12 quick points with super tries by Gill and Hewitt, both goaled by Palfrey.

The game was held up for 10 minutes while Eagles winger Blackmore was attended to on the pitch for neck and back pain before being carried off and eventually taken to hospital.

The 10th Sheffield try went to Steve Thorpe in the last minute before the siren brought relief - another bad day at the office.