Initial has success down to a T
Reporter: Karen Doherty
Date published: 01 April 2015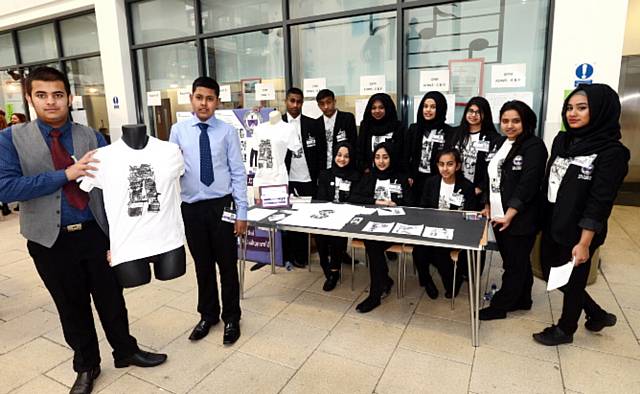 The winning initial team from Oldham Academy North
A CAPITAL idea has seen Oldham Academy North crowned the borough's young business champions.

The team from the school - called Initial - won the Young Enterprise (YE) area final by impressing the judges with its range of T-shirts featuring hand-drawn initials. The company also won the award for the best business report at the event, held at North Chadderton School.

Gallery Oldham has agreed to stock the trendy products and the team has also sent a T-shirt to Oldham-born TV star Professor Brian Cox - who has promised to post a picture of himself wearing it on Twitter.

Abbie Lockitt, business and industry co-ordinator at Oldham Academy North, said: "The team put on a fantastic performance at the area final and really held its own against the older and more experienced students.

"The pupils worked extremely hard leading up to the event and it was wonderful to see their hard work pay off. The team is improving all the time, learning from each experience and building in confidence.

"Going forward to the Greater Manchester final, the pupils are still looking to step up their performance once more by working on their presentation skills and trade stand."

North Chadderton's Diverge - which sells a man-shaped mobile phone holder called Malleable Man - were the runners up and also picked up the prize for the best trade stand.

Genesis, from Hulme Grammar School, which creates personalised hoodies and T-shirts, won the best presentation accolade. The YE company programme challenges groups of 15 to 19-year-olds to set up their own companies with expert support from a business adviser.

The number of Oldham schools and colleges taking part this year rose to 10 thanks to funding from the Oldham Business Leadership Group. Five teams competed at the local final - the line-up was completed by Multi from Oldham Sixth Form College and Intende, from Newman College - where they had to set up stalls and give a presentation about their companies.

The judges were Councillor Shoab Akhtar, Stephen Lowe from the Stoller Charitable Trust and Pam Pelham, managing director of AMP Wire. Initial and Diverge will represent Oldham at the YE Greater Manchester final at Manchester Metropolitan University on May 6.