'Big four' target rise through the leagues
Reporter: John Gilder
Date published: 30 December 2016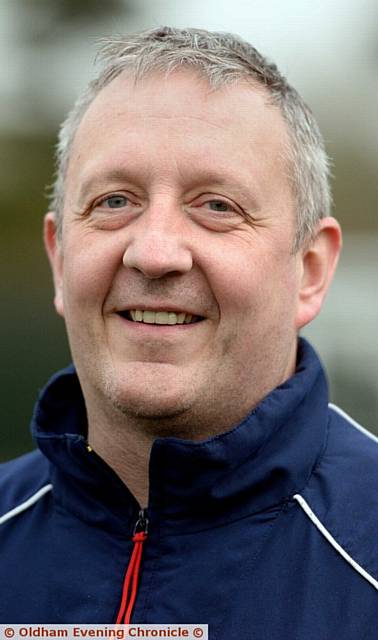 GLORY CHARGE . . . Heyside manager Geoff Howard
IT is great to see that all of our Saturday football clubs are part of the EFL pyramid structure, ensuring that progress through the various leagues can be attained.

Of course, facilities and finance are two of the uppermost concerns for any club wishing to move up and those factors can be major stumbling blocks.

But it can be done.

Chadderton Football Club is the best example. Having spent years in the Manchester League, Chadderton seized the opportunity to become members of the Lancashire Combination, which later merged with the Cheshire League to become what is now known as the Hallmark Security North-West Counties League.

Chadderton FC have always enjoyed the best facilities of our local clubs at their Andrew Street ground, but it still took some major tweaking in satisfying ground grading requirements to secure their place in the North-West Counties League.

There are two examples of clubs whose rise up the leagues has been phenomenal. Fleetwood Town and AFC Fylde are upwardly mobile in every sense, but, allied to excellent planning, they have wealthy backers and money talks.

But what about what I like to term as "the big four" in local football? With no disrespect to any other club, some of whom have made great strides in recent years, I see Springhead, Royton Town, Avro and Heyside as four very progressive clubs.

Another factor in my choice of clubs is their playing record over the past decade or so.

Springhead and Royton Town are established and highly successful members of the Manchester League and it is good to hear that both clubs are very much aware of the opportunity to step up a league.

The common denominator is that both clubs also have desire to move on.

And Springhead and Town have the capability to hold their own in a competition such as the North West Counties League.

Springhead manager Lee McAllister said: "We have a plan which looks at furthering the club's aims, with a working committee which reviews and actions those plans.

"We do seem to hit brick walls in our desire to progress to a higher league and that has had an impact on several of the players.

"The best example of that in recent times is Richard Bennett, who is now a first team regular at Barrow in the Vanarama Conference."

Town have made excellent progress both as a team and a club since leaving the Lancashire Amateur League and ­- like Springhead ­- are one of the leading lights in the Manchester League.

Town president Dave Whitehead said: "There is no lack of ambition at the club and a step-up to the North-West Counties League has been in our thoughts for a while now.

"We do have plans to achieve this and I think that the fact that we have floodlighting and ample parking (at the Oldham Academy North) is very much in our favour."

Heyside have made massive strides over the past few years, coinciding with the arrival of manager Geoff Howard from Oldham Hulmeians.

Forever it seemed that Heyside were always the bridesmaids in the Huddersfield and District League, always missing out on stepping up.

But Howard's men suddenly became, for want of a better expression, the brides and jumped at the chance to claim a place in the Manchester League's First Division.

And now, with promotion to the top flight beckoning, Heyside's thoughts are turning to what they have to do to satisfy the top-flight requirements.

Howard said: "It shouldn't be a great problem and we know what we have to do if we go up."

I cannot forget Avro in this equation, whose proposed April move from the Lancaster Club to the Whitebank Stadium could well be viewed as progress ­- they are another club definitely on the up.

Manager Rob Fuller said: "This is a significant development for us and among our plans is a move to the NWCL in 2018."

In the meantime ­- any wealthy backers out there??!!