Springhead stalwart Jack dies at 69
Date published: 14 December 2012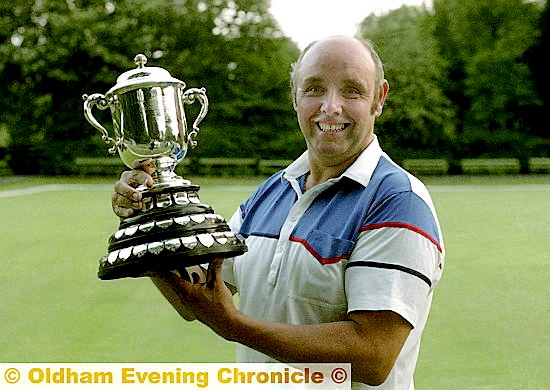 GLORY DAYS: Jack Ashton wins the Green Final Handicap in 1990.
BOWLS:

FORMER Green Final Bowling Handicap winner Jack Ashton has died.

A player for more than 40 years, 69-year-old Jack was a well-known face on the local circuit, competing successfully in the Chadderton, Failsworth, Saddleworth and Veterans leagues.

One of his finest moments came in 1990 when he beat favourite Tommy Gowers to land the prestigious Green Final Handicap.

He had a long association with Springhead Libs, and his captain Bob Carr said: "Jack was a

smashing chap. He had a good sense of humour and was always up for a laugh. If there was something that needed doing, he was prepared to lend a hand."

Chadderton League secretary David Moore said: "Jack was a skilful player, a keen competitor and a nice fellow. Even when he was 20-0 down, he would play as if he was in front.

"He never knew when he was beaten and that is my lasting memory of him."

Jack won the Chadderton League's Stan Boston Merit on four occasions, in 1990, 1991 and 2000 for Springhead and in 1996 while representing St Paul's.

He was in action last season, helping Springhead to retain their status in Division One.