Werneth Primary clock tower set to return to its former glory
Date published: 28 February 2018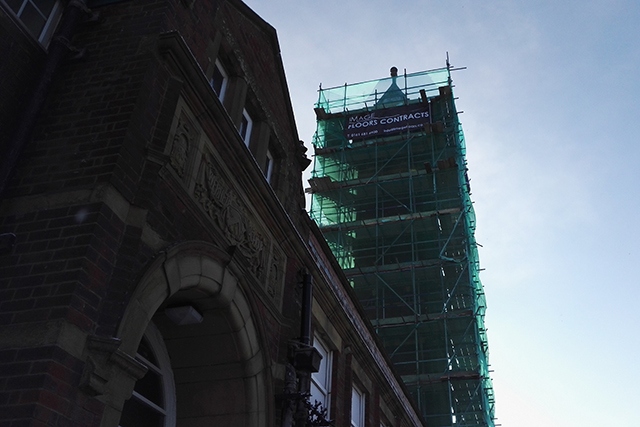 The Werneth Primary clock tower is being restored to its former glory
One of Oldham's most recognisable and popular landmarks – the clock tower at Werneth Primary School – is being restored to its former glory.
Installed when the school was built way back in 1891, the famous Werneth clock hasn't worked for decades, so now, after being the go-ahead by the school's Bright Tribe Trust, work has begun on restoring the clock and the whole gigantic tower structure.
"Following a review of the stonework and the stonemasonry, the Trust are very keen to get it all put right," said school Principal Conrad North.
"We did look at the clock mechanism, and it can be made to work again.
"We just felt that it would be a brilliant thing to do not only for the school, but also for the local community.
"The Trust is funding the work, through the Education Funding Agency and capital funds.
"They've also funded improvements to our key stage two playground, and hopefully in the next financial year we'll have funding for the KS1 playground.
"The work started on the tower on Monday, though before that it took a week-and-a-half to get the scaffolding up.
"The weather has come along now, but we're still hoping all the work will be completed around the time of the Easter holidays.
"That's plan 'A', but obviously as the restoration workers go up there they'll find other jobs to be done, so there will then be reviews of that.
"Fingers crossed, though, it should all be completed by the end of the Easter holiday.
"As soon as it is completed, we want to celebrate that.
"Once it's finished, the clock tower will be an iconic beacon again.
"Some of the staff here have been here a long time, even coming here when they were children, and they always remember it."
A grand 're-opening' ceremony will take place once all the building and masonry work is fully completed.
LED lighting is also being installed so the structure can be admired in all its finery no matter what time of the day it may be.