UPDATED: Snow and strong winds battering Oldham
Date published: 01 March 2018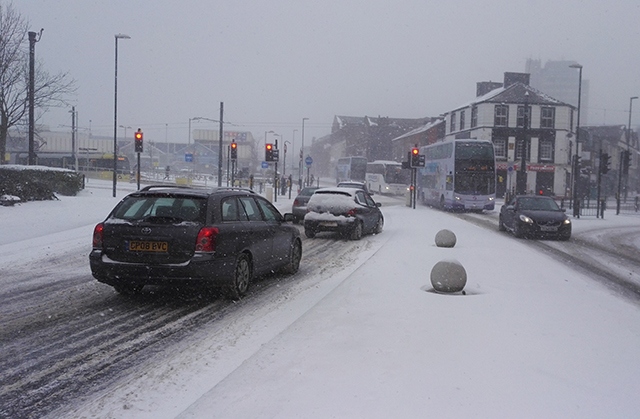 Oldham town centre has been badly affected by snow this morning
The Beast from the East and Storm Emma have combined to batter Oldham and the surrounding areas today, causing travel chaos and a raft of school closures.
Howling winds and incessant snow continue to affect the borough, many parts of which resemble a ghost town as people decide against venturing out.
The list of school closures is too long to list at present. Many have already announced that they will also be closed tomorrow (Friday).
For the latest school closure information, log on to: www.oldham.gov.uk/winter
Temperatures remain around -4C, but due to a bitterly cold wind it feels as cold as -11C to -6C.
Saddleworth is being particularly bady hit, with drivers having to be rescued from their cars.
A GMP Facebook post read: "We cannot stress enough the seriousness of you venturing out by vehicle at the moment in Saddleworth.
"Please only leave home if you have a essential need.
"We currently have people stuck with vehicles in -4 temps across the area and in particular the high exposed routes such as Delph to Denshaw is almost impassable due to drifting and we have people trying to drive up passing Police vehicles with warning lights telling them not to do so.
"Oldham council are out and gritting capacity, but even this is only just keeping main routes open.
"Please do not put yourselves and our emergency services at risk and stay home venturing out only in the most essential of cases."
Forecasters have said to expect only light snow showers in the Greater Manchester area, but in areas above higher ground in Oldham, Bolton and Rochdale, there could be more snow showers throughout the day and into the night.
The weather is causing treacherous driving conditions on the roads, in particular the M62, which has been shut eastbound after a car caught fire on the motorway.
There are severe delays and stationary traffic due to snow and a vehicle fire on the eastbound stretch between Milnrow and Rishworth Moor, with congestion back to the Simister Island junction for the M60 and M66.
The road is closed between Junction 21 and 22, with delays back to junction 18 for Simister Island.
The Snake Pass and Woodhead Pass are shut to drivers this morning, as well as Holmfirth Road in Greenfield.
Huddersfield Road in Oldham is closed, as is Denshaw Road heading towards Delph, while other routes into town have been badly affected, namely Manchester Street, Ashton Road and Rochdale Road.
Buses are being affected, but continue to provide service. Information is being updated regularly on the TfGM website.
On the Metrolink, tram services are currently suspended on the Rochdale line through Oldham.
Services are operating between Manchester Victoria and East Didsbury.
Tickets are being accepted on 58, 59, 81, 83, 181,182 buses - though they are currently suffering lengthy delays - and Northern Rail services from Rochdale town centre through to Victoria.
The Met Office escalated a heavy snow weather warning for south-west England and south Wales to red - its highest level - meaning "widespread damage, travel and power disruption and risk to life is likely" from 3pm today.
Meanwhile, Scotland has faced the brunt of the extreme weather so far, with police warning the public against travel until a red warning across the south of the country passes at 10am.
Hundreds of motorists on the M80 near Glasgow reported being stuck for up to 13 hours, with some spending the night in their cars, and others abandoning their vehicles on the motorway.
Dozens of flights have been cancelled as snow and ice continues to cause disruption at Manchester Airport.
Flights to Dublin, Edinburgh, Aberdeen, Glasgow, London Heathrow, Guernsey, Cork, Belfast City and Norwich have been cancelled.
There will are no flights arriving at Manchester from Dublin, Edinburgh, Aberdeen, Glasgow, London Heathrow, Guernsey and Cork.
Bosses at Manchester say the disruption has been caused by adverse weather conditions at other airports.
THE Met Office has issued further warnings as Storm Emma continues to move in from the west.
Named by the Met Office's Portuguese partners, the weather system is battering Britain only days after the 'Beast from the East' delivered yesterday and today's snowfall and plunging temperatures.
Yellow warnings for ice and snow have been issued for the north-west for tomorrow and Saturday.
Share your pictures and videos with us on Twitter @OldhamChronicle or via our Facebook page.