The Blue Onion cafe will be open as normal!
Date published: 01 March 2018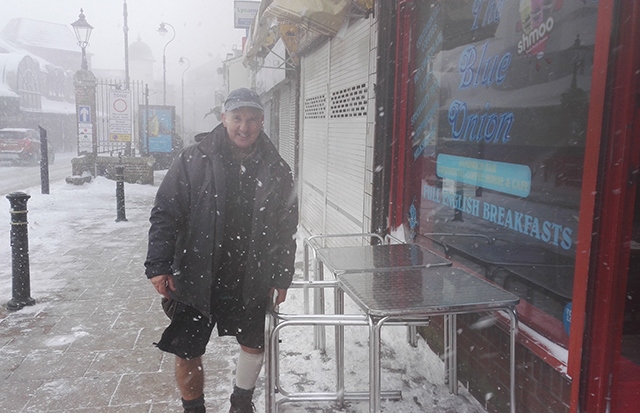 Geoff Mallitt was determined to open up the Blue Onion cafe as normal this morning, despite the horrendous weather conditions
Scroll down for Video
Despite the Beast from the East weather system, and now Storm Emma, battering Oldham this morning, many business owners showed their steely determination to simply carry on regardless.
As the Chronicle passed through Oldham town centre shortly before 9am this morning, shops and cafes were in the process of opening up.
The beer was still being delivered to the Snipe Inn bang on time, while the proprietor at the Blue Onion café on Henshaw Street, Geoff Mallitt, was out in his shorts setting up his business just in case any of his loyal customers were to drop in as normal.
It looks as though Geoff's café might be a little quieter than normal today unfortunately, but he is ready and willing as ever to serve any customer that may call in.
"I'll always stay open for the customers," said a windswept Geoff defiantly.
"I'm still expecting loads of customers – they all need their tea, coffee and sandwiches."
The Blue Onion is something of an institution in Oldham town centre.
Geoff has run the successful café for 15 years, and clearly has no intention of calling it a day anytime soon.
Temperatures remain around -4C, but due to a bitterly cold wind it feels as cold as -11C to -6C.
Share your pictures and videos with us on Twitter @OldhamChronicle or via our Facebook page.
Oldham may have been battered by snow today, but Geoff Mallitt from the Blue Onion cafe on Henshaw Street was opening up as normal