Oldham MP secures Shop Direct debate
Date published: 01 May 2018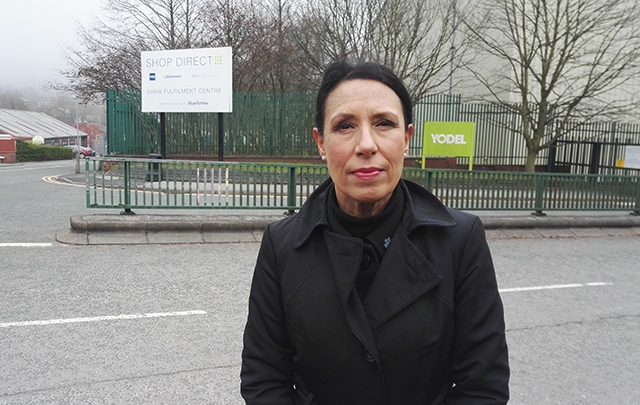 Oldham East and Saddleworth MP Debbie Abrahams at Shop Direct's Shaw Distribution Centre
Usdaw, the trade union for Shop Direct workers, has saluted Oldham East and Saddleworth MP Debbie Abrahams after she secured an adjournment debate in the House of Commons on the situation at the company.
The debate will take place at the close of business in the main chamber today (Tuesday).
Earlier this month, Shop Direct confirmed plans to close its three Greater Manchester fulfilment centres - two of which are in Oldham - in a move which could affect about 2,000 jobs in total.
The company has operations at Linney Lane in Shaw (Shop Direct's national distribution centre), the Raven mill in Chadderton, and Little Hulton, near Bolton.
Combined, the three occupy 1.53 million sq ft of space and employ 1,177 permanent employees and 815 agency workers.
After revealing that a "new, purpose-built and automated facility".will be situated in the East Midlands, Shop Direct will begin exiting the three Greater Manchester centres from mid-2020 and will relocate to a 500,000 sq ft distribution centre, which will be fully operational by 2021.
Redundancies are anticipated as a result of the closures, while about 500 permanent roles will be created at the new base.
Usdaw Divisional Officer Mike Aylward said: "Our members at Shop Direct are at the forefront of the effects of the introduction of new technology, as they face seeing their Greater Manchester workplace, employing nearly 2,000 workers, move to the East Midlands.
"So it is right that these issues are debated in Parliament and the Government is required to provide a response.
"Usdaw reps and officials are preparing for the start of a statutory period of meaningful consultation with the company, where we will interrogate the business case and seek alternatives to their devastating proposals.
"We welcome the assistance of local MPs and councillors, along with the Greater Manchester Mayor.
"We believe there is a role for the Government to intervene and support the staff facing redundancy.
"There are questions to be answered about what the 'Northern Powerhouse' actually means to working people in the North West.
"Our members will be listening carefully to what the Minister has to say."