Cake star Suzanne shines on C4 Royal Wedding Special
Date published: 14 May 2018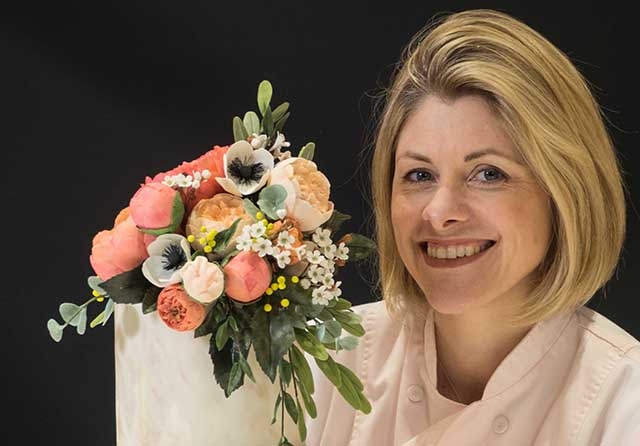 Wedding cake specialist Suzanne Thorp
Leading artisan cake maker and wedding cake specialist Suzanne Thorp, from Uppermill, took to the small screen once more at the weekend.
Suzanne graced screens as she rolled up her sleeves alongside her fellow Extreme Cake Makers, as the Channel 4 show aired its Royal Wedding Special yesterday (Sunday).
The special, extended length show, visited some of the series' favourite crafts men and women as they do a right royal job at making even more dreams come true.
This time the ingenious cake maker donned her creative head to produce a sensational masterpiece worthy of our latest Royal Princess.
Suzanne worked her magic for a local real-life bride and groom, who are both royally excited about Meghan and Harry's special day.
She crafted a beautifully intricate cake, created tempting flavour combinations for each beautifully hand-crafted tier and finished the whole creation off with our future Royal's favourite flowers.
Suzanne said: ''Each show presents a particular set of challenges and makes you approach each project from a different perspective, really getting your mind to focus.
"You have to get your head around creating a show stopping centre piece, to create that wow factor for each project.
"When you stop and think about it cakes are all about sharing and that's exactly what any wedding is about.
She added: ''A wedding cake is a statement of intent and ultimately the highlight of any wedding day.
"Nothing says more to people about togetherness than when newlyweds cut the cake together and share it with their guests.
"I hope that Kim and Alex my Royal stand-ins and the Royal couple themselves have a long and prosperous future together."