Record-breaking turnout at Mossley SOUP event
Date published: 13 June 2018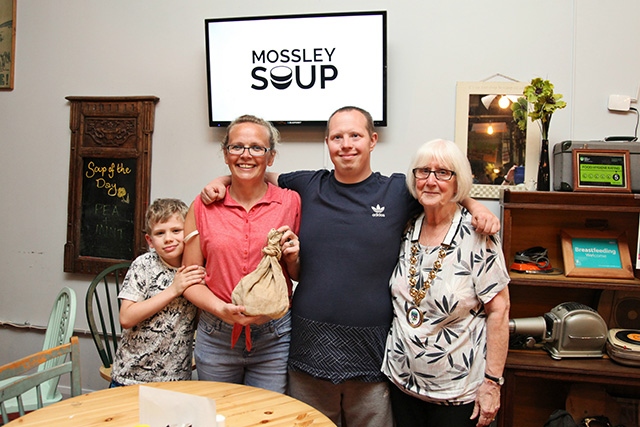 Michelle Phillips celebrates with family and friends
Diners turned out in force to help make the latest Mossley SOUP community crowdfunding event another record-breaker.
More than 120 diners attended the fifth Mossley SOUP showcase at Emmaus Mossley, raising £930 for the winning project.
Michelle Phillips, from the Mossley Social Club for Disabled Adults, secured the most votes and walked away with all the money raised on the night.
Michelle said: "I nervously took the stage at Mossley SOUP to present a cause close to my heart.
"I was presenting on behalf of Mossley Social Club for Disabled Adults, where my brother attends regularly.
"The evening was very well attended and everyone there was very supportive and welcoming.
"We were extremely fortunate to be the winners of the evening and I was overwhelmed with amount raised.
"The money will make a huge impact to the members and will provide even more amazing memories."
Diners donated £5 each in return for soup, live music, presentations from four local projects and a vote for their favourite project.
Additional funds were raised through a raffle with prizes donated by Cotton Clouds, Dinnerstone Uppermill, the White Hart at Lydgate, the Navigation Inn, Alan and Viv's English Fish and Chips and Saddleworth Wine Vault.
Each of the four project presenters had four minutes to share their idea followed by four questions from the audience.
Fellow presenters included Derek Mayall with Children's Theatre in the MOAT, Pat Foster from Mossley Action for Elderly and Sally Hamer with Mossley Community Orchard.
In addition to the four project presentations, Mossley SOUP diners enjoyed live music from Jon Mambo and members of Night Host and a guest talk from Cara Schofield from Tots R Us playgroup, winners of the third Mossley SOUP.
Soup choices at the event included Asparagus, Leek, Tomato, Garlic and Chilli and low-carb Vegetable.
The soups were prepared by local volunteers Dave, Lesley and Rory with ingredients and bread donated by R Noone and Son Ltd, local vegetable suppliers Diane and Neil, and Buckley's Bakery.
Michelle added: "I can't express how grateful I am to everyone involved and who supported me and I can't wait to share the experiences at the next SOUP event.
"On the back of this I have also received many offers of support and donations for the club and would encourage anyone considering applying to go for it!"
Mossley SOUP is organised by local volunteers with support from Mossley Town Council, the Mayor of Mossley and Emmaus Mossley.
Project ideas are being sought from individuals, artists, community groups, charities and new business start-ups for the next Mossley SOUP event in October.
For more information, to submit a proposal and for details of future Mossley SOUP events, head to: http://bit.ly/MossleySOUP