What a Great result!
Date published: 13 June 2018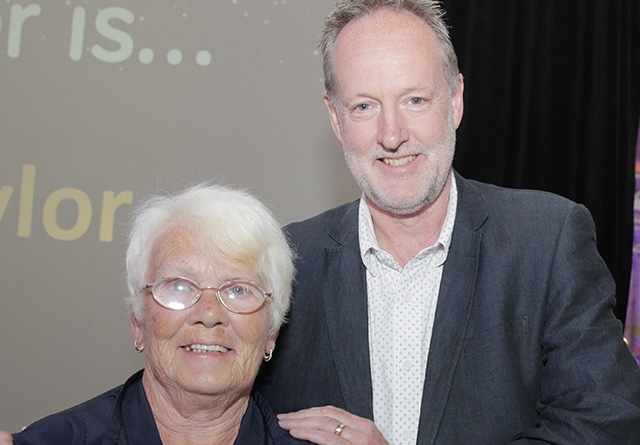 Carol Taylor, winner of the prestigious David Nuttall Award, with Great Places Chief Executive Matt Harrison
Oldham residents scooped four gongs at a glittering awards ceremony.
Over 150 Great Places Housing Group customers attended the Community Stars Awards, which are held annually at Gorton Monastery in Manchester, celebrating the inspirational achievements taking place in communities across the North West and Yorkshire.
Carol Taylor took home the prestigious David Nuttall Award, which is awarded to a customer who has shown particular dedication to working with Great Places to improve services for the benefit of all residents.
Carol, from Primrose Bank, was selected for the instrumental role she played in getting the popular Primrose Community Centre up and running, and for the help she continues to provide to the centre.
Carol also helps to shape Great Places' services by attending her local residents' panel, being described as a 'tenacious' customer, who is never afraid to challenge the status quo.
She said: "Winning the David Nuttall Award was a lovely surprise – one which I definitely didn't expect!"
Another Oldham resident, Susan Bennett (pictured above), took home the Good Neighbour Award.
Susan was nominated for helping one of her neighbours to access addiction support services, and for looking out for another neighbour with mental health issues, despite having caring responsibilities of her own.
However, the accolades don't stop there.
Aneesa Afzal and Toyibat Ganiyu also took home special recognition certificates for their contributions the community – Aneesa for volunteering at her local community centre while juggling her studies, and Toyibat for running beading workshops for local women.
Matthew Harrison, Chief Executive at Great Places, said: "Now in its fifth year, the Community Stars Awards is a chance for Great Places to recognise our customers who have achieved great things, both personally and for their communities.
"We received over 120 nominations for this year's awards it was a real honour to be able to meet and congratulate the people behind these inspiring stories."