Charities to benefit from the Oldham Business Awards
Date published: 06 August 2018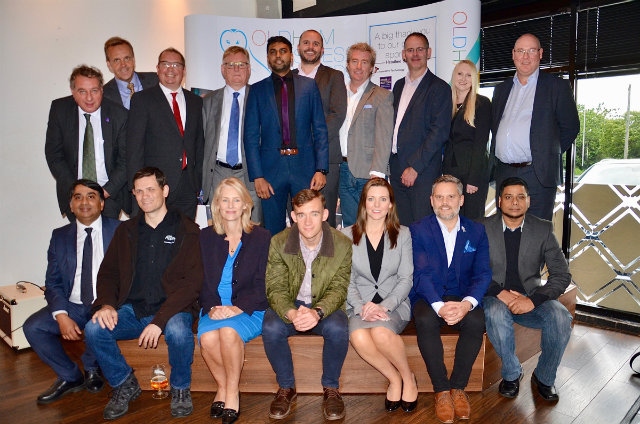 This year's Oldham Business Awards sponsors pictured as a post-dinner event at The Blue Tiffin, Royton, hosted by headline sponsors Ryder and Dutton.
CHEQUES worth a total of £5,000 will be handed to Oldham charities following the record-breaking tenth anniversary Oldham Business Awards.
The decision was taken by the steering group at it's latest meeting as preparations began for the 11th celebration of Oldham's buoyant business community, the gala dinner being scheduled for Friday April 26, 2019 at the Queen Elizabeth Hall.
The first donation will go to Mahdlo at the annual Patron's Dinner on Tuesday September 18.
The second, to Dr Kershaw's Hospice, will be presented at at the popular Oldham Corporate Quiz, to be held this year on Thursday November 15 in The Oak Room at The White Hart, Lydgate.
Teams of four take part in the quiz, entry fee is £50 per team and every penny goes to Dr Kershaw's Hospice thanks to generous sponsorship in the past from Santander and AMPWire Ltd and AMPFab Ltd.
Steve Kilroy is chair of the OBA Steering Group. He said: "This year's celebration dinner, our tenth, was by far the most successful ever with more than 550 people enjoying a fantastic evening hosted by impressionist Rory Bremner.
"We are delighted that, thanks to the generosity of our loyal supporters and people supporting the raffle on the night, we can hand over much needed funds to these two wonderful Oldham organisations.
"We are proud to support Mahdlo and Dr Kershaw's Hospice and we hope to continue for many more years yet."