First week of Oldham's newest secondary school hailed a "great success"
Date published: 18 September 2018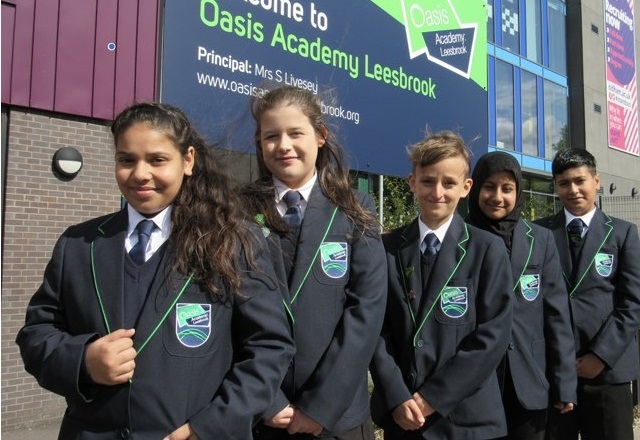 Oasis Leesbrook welcomed Year 7s and 8s last week.
Oasis Academy Leesbrook, Oldham's newest secondary school, officially opened its doors for the first time last week to over 200 excited Year 7s and 8s.
The academy, which is currently based on Middleton Road before a brand new purpose-built school, planned to be just off Lees Road, will officially open during the summer of 2020.
Sarah Livesey, Principal, said that seeing the students arrive was one of the proudest moments of her career.
She said: "We have been working tirelessly over the last 12 months to prepare for this week.
"Progress on the building have been going very well. We have recruited a fantastic group of outstanding teachers who have so many exciting plans for our students and we have developed innovative partnerships that will raise aspirations.
"It only really comes together, however, when you see the faces of the young people we will be guiding to be the next local, national and global leaders.
"All of our students looked so excited and eager to learn in the first assembly; it was a real pleasure to officially welcome them to Oasis Academy Leesbrook.
"The first week has been superb and has set the tone for our very exciting future. It has been a great success."
The new Year 7s were just as excited.
Raffiu, who said the technology lessons were a highlight in his first week, said: "To be honest, my Mum hadn't heard of the school until I knew I was coming here.
"I came to the transition day not knowing what it was going to be like, but when I got home I told her all about the facilities and the teachers. She said that it sounded very swanky.
"I am really pleased to be here, and she is really pleased too."
Another new Year 7, Abigail, was also delighted with the first days at the school.
She said: "Everything feels calm and the people are really nice. It doesn't feel too big, which makes it nice. Plus, we get to go to a brand-new building in a few years."
The school will be holding its first Open Evening on Wednesday 19 September, and parents and children from across Oldham are encouraged to come along.
Mrs Livesey added: "We have so many exciting plans. Over the next term, for example, we are sending our students to one of world's best universities, a visit to the Houses of Parliament and will taking part in our Oasis Inspire event.
"We are a new school with huge ambition and the highest expectations four students' future success and happiness. It would be fantastic to see you at our Open Evening."