Universal Credit blamed as Oldham Foodbank may not be able to keep up with demand
Date published: 21 September 2018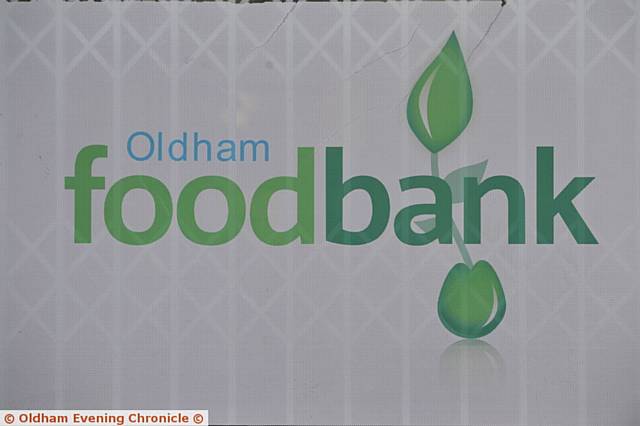 Oldham Foodbank
Oldham Foodbank says it is experiencing the worst shortage of stocks and funds in the last two years and is appealing for donations of both food and money to help the service provide for those most in need.
The roll-out of Universal Credit in the town is being put down as one of the factors – with Oldham being picked as a pilot area.
The foodbank also says it has seen a rise in the number of homeless people and people with complex needs visiting.
They have seen an increase of more than 25 per cent in numbers of food vouchers fulfilled up to July of this year and say the donations they receive have not kept pace.
They're now appealing for people to donate both food and money to help people who are struggling.
They currently provide a five-day service, but are warning that may not be able to continue unless something is done.
A range of food is provided in parcels that will last for three days – and packages are made up to suit individuals or families if they also have special dietary needs for medical or faith reasons.
They say they are currently struggling to give people enough nutritious food for three days – and find the funds to run their building and warehouse, and cover their bills.
Maureen Mcgrath, a volunteer at Oldham Foodbank, says: "I have volunteered with the Oldham Foodbank for two years now and have never experienced this shortage of both stock and funds previously.
"There are a couple of reasons why this might be happening now.
"Oldham has been a pilot area for the roll out of Universal Credit - the impact that this benefit has on individuals and families both working and non-working has been quite dramatic.
"They have experienced difficulties related to the waiting time for the benefit to be paid, the changes the benefit may mean for payment of rent and services alongside difficulties experienced in relation to the impact the benefit has on eligibility for other benefits such as free school meals.
"This has left many people struggling to manage finances and to afford food.
"Universal Credit does not appear to be flexible enough to respond to the current increase in zero hours work contracts - when the amount of income earned monthly can vary significantly and this also impacts on the ability of people to manage financially."
A spokesperson for the Department of Work and Pensions said: "The reasons why people use foodbanks are complex, so it's wrong to link a rise to any one cause.
"Universal Credit (UC) replaces an out-of-date, complex benefits system with cliff edges that disincentivised work and often trapped people in unemployment.
"Under UC, evidence shows people are moving into work faster and staying in work longer than under the old system.
"Through out 'test and learn' approach, we have listened to feedback from stakeholders and claimants and made improvements, including increasing advances to 100 per cent, removing the seven-day waiting period, and paying people's Housing Benefit for two weeks while they wait for the first UC payment."
The DWP also says it spends around £90billion a year supporting people who need it, including those who are out of work or on a low income.
Oldham foodbank is especially appealing for donations of tinned fish, tinned tomatoes, tinned rice pudding, tinned fruit, dried pasta, rice and noodles, sugar, tea, coffee, tinned or packet soups, tinned vegetables (but not tinned peas), UHT milk – and Halal versions of those foods.