Hairy Biker Dave Myers encourages people in Oldham to have their eyes tested
Date published: 21 September 2018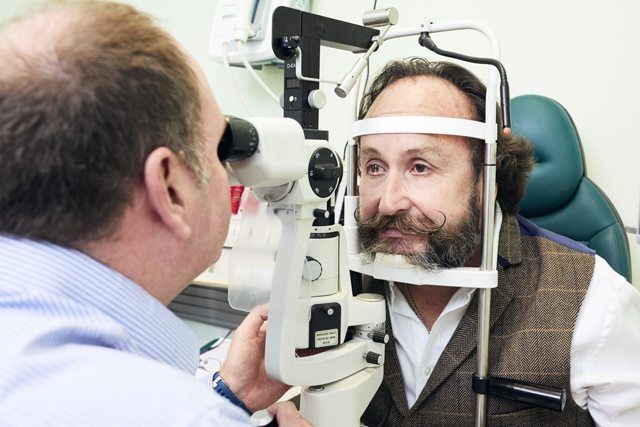 People in Oldham urged to get eyes tested
The record number of older people in employment in Oldham are being urged to make their eye health a priority as pension entitlement ages increase.
One in four of them are not getting their eyes tested regularly, making them more susceptible to glaucoma, age-related macular degeneration (AMD) and cataracts, which could have an impact on their life and work.
Specsavers is working with sight loss charity, the Royal National Institute of Blind People (RNIB), to urge the ageing workforce to take their eye health seriously.
Catherine Hughes, store director at Oldham and Royton Specsavers, says: "It is so important residents in Oldham look after their eyes and have regular eye tests for the detections of these conditions.
"Our eyes are so important for our jobs and early detection means we can manage and do something about these conditions so that people can keep their jobs.
"We're holding a vintage-themed tea party at the store on Friday 28 September to raise funds for the national sight loss charity, and we'll be on hand to answer any questions people might have about age-related eye conditions."
Research shows there are already 575,870 people with preventable sight loss conditions of AMD, cataract, glaucoma and diabetic retinopathy in the North West and as the figures show this is a number which is expected to climb.
That is why the North West has invested more than £360,000 through providing Optical Coherence Tomography (OCT) – hospital grade eye testing scanners - and personnel training to commit themselves in improving the vision for residents in the North West and to tackle the growing problem which comes with our ageing population.
It has done this by ensuring they have 366 Minor Eye Condition-qualified optometrists and at least one fully trained RNIB Ambassador in each store in the North West who has undergone eye health training to complement the optometrist's skills to ensure whoever a customer first sees in-store is sympathetic to their eye care needs.
Celebrity chef and Hairy Bikers star Dave Myers, 61, is backing the campaign ahead of National Eye Health Week (24-30 September) after discovering that he had a serious eye condition that could have had a huge impact on his career.
Dave says: "I was shocked when I found out that I'd developed glaucoma when I was just 54.
"Thankfully it was spotted during a routine eye test before it was too late but if it had gone unnoticed, I could have gone blind, and that would have had a huge impact on how I do the job I love so much.
"If you want to avoid unnecessary sight loss as you get older, and continue working and going about your everyday life without barriers then you need to make that very important appointment with your optometrist once every two years."