Electricity North West looking for Oldham apprentices
Date published: 15 January 2019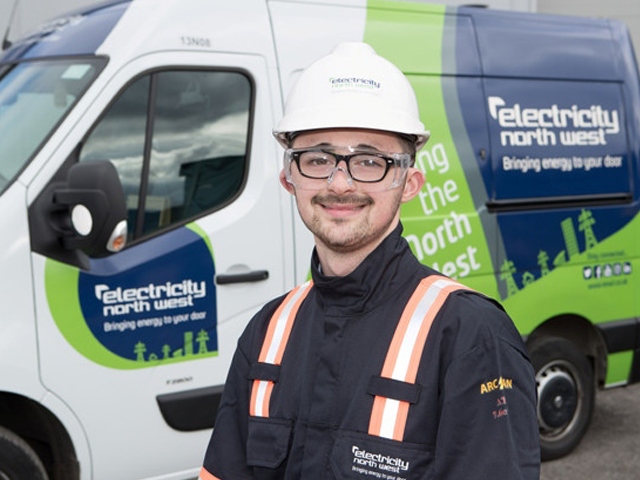 Adam Ainsworth, apprentice at Electricity North West
Could you be the ideal candidate for an apprenticeship?
The region's power network operator, Electricity North West, is searching for 15 new apprentices to help power the lives of 2.8m people across Greater Manchester.
The search is on for both craft apprentices and higher level apprentices in Oldham, Stockport, Salford and Walkden to train for three years to help maintain, develop and grow the electricity network for years to come.
Electricity North West's apprenticeship scheme, which is now in its 11th year, has trained and developed more than 200 apprentices providing opportunities for local people in the region.
Peter Emery, CEO for Electricity North West, said: "Our apprenticeship scheme reflects our ongoing commitment to not only ensure we continue to power the lives of all our customers, but also to ensure we provide local jobs in communities across the North West.
"Our apprentices make a huge contribution to our organisation and we have a responsibility to the next generation to create opportunities.
"That's why we're looking for people from across Greater Manchester to apply for our apprenticeship scheme and help us continue to deliver an essential, safe and innovative service for years to come."
Higher level apprentice Adam Ainsworth, 20, from Oldham, says: "My first impressions of the company when I first started was that it's a large regional company in engineering, that values safety very highly and works on important key values.
"I would recommend the scheme because the company is a very positive employer that has a planned progression that allows a high level of learning."
In total 22 apprenticeship opportunities are available across the North West, including both craft apprenticeships, which include overhead line workers and cable jointers, and higher level apprenticeships, which include roles such as delivery engineer, project manager, design engineer and control engineer.
The deadline to apply is the 17 February 2019.
You can apply here: https://www.enwl.co.uk/about-us/careers/