Celebrating the work of a world-famous Oldham artist
Date published: 17 January 2019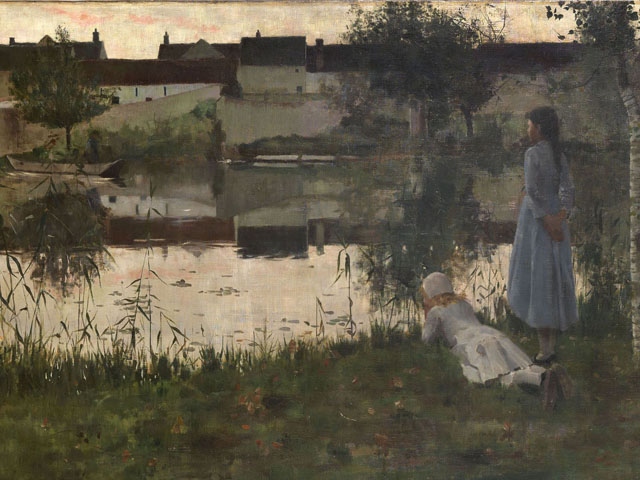 Le Passeur painting
Gallery Oldham is celebrating the work of a world-famous artist from the town in a new exhibition.
"William Stott of Oldham: Great Painters Are Rare" launches on Saturday 26 January and will run until early May
His most celebrated painting, Le Passeur, will be the centre piece of the exhibition and the full installation will explore William's most celebrated works and his legacy.
It will also include loans from Tate, Touchstones Rochdale, Manchester Art Gallery and Aberdeen Art Gallery, as well as key works from Gallery Oldham's own collection.
Some of the pieces will be by Stott himself and others will be by those who worked with the La Passeur creator, and, of course, those who came after.
For most of his career, Stott painted landscapes, but he went in a different direction during the late 1880s and began to move towards pictures involving classical figures and allegorical themes, such as 'Hide and Seek in the Garden of Epicurus' and 'The Birth of Venus'.
He mainly worked in oils, watercolours and pastels – media appropriate to his atmospheric style.
Le Passeur (The Ferryman) by William Stott of Oldham (1857 - 1900) was secured for the British public with funds provided by the Heritage Lottery Fund, Art Fund (with a contribution from The Wolfson Foundation) and The Hintze Family Charitable Foundation.
Paul Jacques, Cabinet Member for Education and Culture, said: "It's an honour that such a prominent member of the art community was born and raised in Oldham.
"These paintings are part of a national collection and they're famous for a reason.
"Usually you'd have to go to the large galleries in London or Scotland to see work of this calibre so it's fantastic that it will be here on people's doorsteps in Oldham to view for free.
"William Stott's legacy still lives on in our town and I'm sure his artwork has inspired many younger artists of this generation.
"I'm thrilled for this exhibitions arrival and I'll certainly be visiting Gallery Oldham to browse the historic artwork from not just Stott, but local artists as well."
The exhibition is free and runs at Gallery Oldham from Saturday 26 January – Saturday 11 May 2019.