Consultation on controversial plans to move Oldham Post Office
Date published: 18 January 2019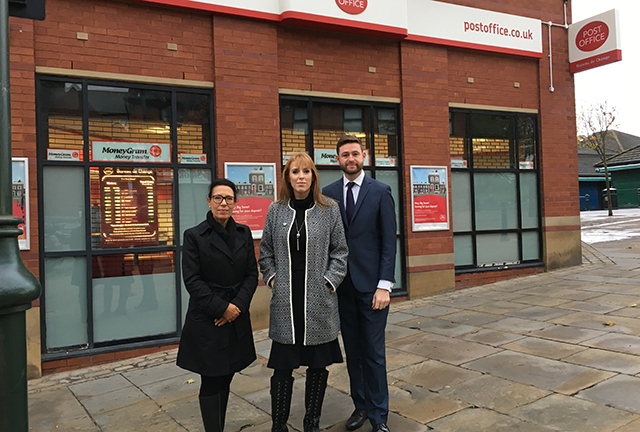 MPs Jim McMahon, Debbie Abrahams and Angela Rayner pictured outside the Oldham town centre post office
Controversial plans to move Oldham's town centre Post Office from its current position on High Street to the WH Smith's store in Spindles have gone to consultation.
The Post Office is asking for your views on the idea.
The plans have been criticised by local MPs Debbie Abrahams, the member for Oldham East and Saddleton, and Angela Rayner, the MP for Ashton-under-Lyne.
It's a decision that's also been criticised by Jim McMahon, the MP for Oldham West and Royton, who set up an online petition to rally against the move.
Writing on the petition, he said: "The proposed closure…is a nonsense, as anyone who uses the Post Office will tell you.
"It's a busy branch and well used.
"There is no public interest in closing it. Even if some service will be relocated; services, staff and our high street will be compromised.
"Not only will we lose a visible institution on our high street, the experience of Post Office services in WH Smiths tells us that it will be small, queues will be longer and services will be reduced.
"We are challenging the leadership team of Post Office Ltd to think again and to ensure that the consultation is genuine with the real concerns we have fully taken on board."
As of Thursday evening, 1,889 people have signed the petition – which can be viewed here.
On the Post Office's page for consultation, the company writes: "If the move goes ahead, the branch will be run by HS Smith High Street Ltd, with extended opening hours to include Sundays.
"This move is part of the continuing modernisation of our branch network.
"We believe the most effective way to secure the long-term viability of Post Office services in Oldham is through a carefully selected retail partner, and we are confident that our proposal is the best way of safeguarding services for the community for years to come.
"The vast majority of our 11,500 Post Office branches, large and small, are successfully operated in this way with retail partners and we believe this is the best approach to keeping Post Offices in main shopping locations and at the heart of communities where they play in an important role in local economies."
You can view the consultation page here.