Controversial Saddleworth School plans to be decided on by Oldham Council
Date published: 05 February 2019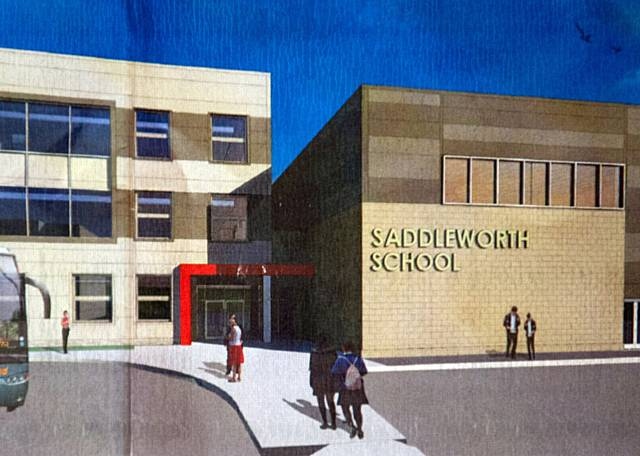 An artist's impression of the proposed new Saddleworth School from 2017
A decision on whether a new school will be built in Saddleworth will be made by planning bosses later this month.
An "extraordinary" meeting of Oldham Council's planning committee will take place at the end of February.
They will discuss four applications, which could give the green light to the plans for the new Saddleworth School.
The controversial planning applications had previously been approved in 2016 – but were rejected by the High Court at a judicial review.
The Judge there found Oldham's planning committee did not look at the financial, educational and construction burdens of keeping the school's old site in Uppermill – to avoid harm to the area's heritage.
A new Environmental Impact Assessment was submitted to Oldham Council and now the plans are going back before the committee.
It's being proposed that the existing buildings on the WH Shaw site would be demolished to make way for the new school.
However, that would not include the listed building at the old pallet mill in Diggle.
The link bridge to the Grade II listed building would be knocked down to make way for a new school, sports pitches, playing fields and areas for play and parking.
A further planning application has been made to create an off-side pick-up and drop-off area for parents.
That would go alongside two residential parking areas and alterations to roads to allow access to the site and to an access road to the former factory.
Each of the four proposals will be discussed separately at the Oldham Civic Centre on Thursday 28 February – so the committee can hear from one speaker for and one speaker against each application.
The speakers will get three minutes to put their argument forward before bosses debate and cast their votes.
The public is able to watch the proceedings, which start at 6pm.