Why are film crews at Oldham Parish Church?
Date published: 05 February 2019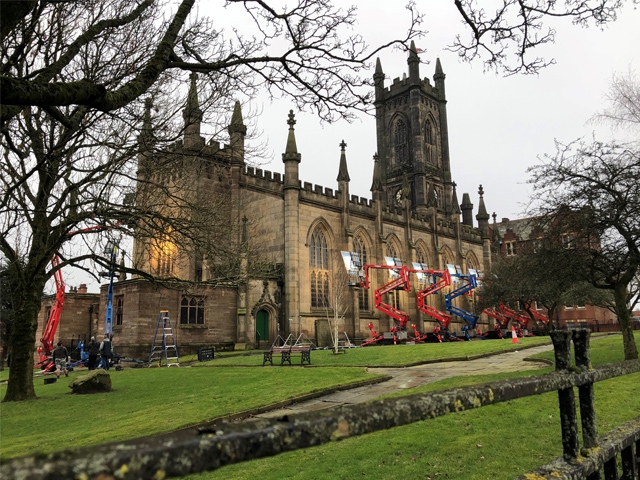 Oldham Parish Church
Oldham Parish Church is no stranger to a TV appearance, but viewers will soon be able to catch it in a brand new BBC drama.
Film crews have been at the building, on Rock Street, shooting scenes for World on Fire.
The Church had a service broadcast live on BBC One on Christmas Day in 2018.
The new drama is described by creators as "adrenalized, emotionally gripping, and resonant" – and will take place following the first year of World War II.
Lighting rigs were lining the outside of the building and filming took place on Tuesday afternoon.
It is unclear who from the cast was there.
Academy Award-winner Helen Hunt is leading the cast, along with Oscar-nominated and Olivier Award-winning Lesley Manville.
Helen Hunt is known for her roles in As Good As It Gets and Mad About You, while Lesley Manville was seen in Mum and Phantom Thread.
Watch our church service live on BBC1 THIS CHRISTMAS MORNING 🎄10am. If you are busy record it...🕊we are on TV just before Wallace & Gromit 😉👍🙋🏻🙏Some real live @OldhamAngels will make an appearance 😇

— Oldham Parish Church (@OldhamParish) December 13, 2018
Jonah Hauer-King, who featured in Little Women and Howard's End) and Julia Brown, who was on our screens in The Last Kingdom and Shetland, will also be in the cast.
The drama has been written by Peter Bowker, who is know for The A Word, Eric and Ernie, Occupation, and Blackpool.
World On Fire tells the story of ordinary people from Britain, Poland, France, Germany and the United States as they try to live through the effects of the War.
Filming is also taking place in Prague, London, Paris and Berlin.
Peter Bowker says: "World On Fire tells the hidden human stories within the big historical events we think we know.
"From Harry, a young English translator in Warsaw caught up in negotiations with the Nazis and trying to smuggle his Polish lover Kasia out of the country, to Lois, the girl who is waiting for him at home, a young Mancunian factory worker who will come to take all the opportunities the war can offer to live a different kind of life.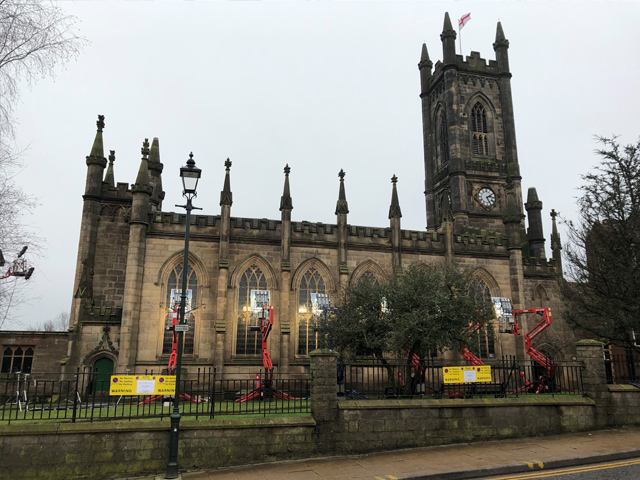 "To Nancy, a female US war correspondent who can't find peace unless her life is at risk, to the Rossler family in Berlin, worried for their soldier son and willing to do anything to protect their disabled daughter from the attentions of the ruling Nazi regime.
"These are the stories of the ordinary people who shaped our world. Stories of loyalty and brutality, courage and fear, hopes, stories of love and loss, hopes and dreams forged in extraordinary times."
Piers Wenger, Controller of BBC Drama, says: "Pete's funny, humane and poignant writing gives us a perspective on those early days of the Second World War which we have never seen before.
"Spanning four nations, the canvas for the drama is vast, but the experience Pete gives us is boots on the ground granting us special insight into one of the most pivotal and seismic moments in Twentieth Century history.
"It is an honour to be working with Pete, director Adam Smith and producers Mammoth Screen as they bring this story to life."